NEW CASTLE, Pa.-- Students from school districts across Lawrence County helped collect nearly 600 blankets for this year's "Share the Warmth Blanket Drive."
COVID-19 restrictions prevented volunteers from using the Columbia Gas site to count and distribute the blankets, however with help from the Shenango School District; students could count and set up the distribution site at their location for this program.  
"The students were so helpful in counting, sorting and packing the blankets for the various agencies," said Gayle Young, United Way Executive Director. "Participating agencies were able to stay in their cars and the students carried the large bags of blankets and placed them into their vehicles."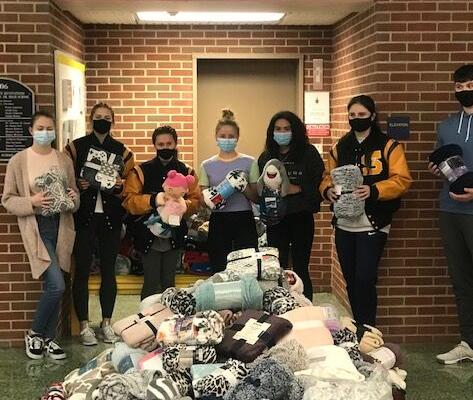 "Columbia Gas of Pennsylvania is committed to keeping our customers safe and warm, and we are humbled to partner with the United Way by sponsoring the, Share the Warmth Blanket Drive," said Columbia Gas of Pennsylvania Community Engagement Manager Sarah Brunner.
The blankets were distributed to the following agencies: 1-2-1 Mentoring, Catholic Charities, Children's Advocacy Center, City Rescue Mission, Crisis Shelter, Holy Redeemer, People in Need, and the Humane Society. If your business or church is interested in supporting this program in the future, please,e contact the United Way of Lawrence County at 724-658-8528 or visit our website at www.uwlawcty.org. ###