NEW WILMINGTON, Pa.-- As the 2020 fall semester resumes so does the campus' continuing fight against cancer. The Westminster College Sports Management program has teamed with College Against Cancer to showcase their athletic expertise, or lack thereof, in a weekly sports "pick 'em" contest.
Each week, The Holcad sportswriters will battle Dr. Robert Zullo, head of the Sports Management program, and his Sports Management students. These students are helping to host fun campus events this semester in partnership with Colleges Against Cancer (led by President Kayla Windsor) to foster greater cancer awareness. These events will help to offset the spring semester Relay for Life that was cancelled due to students returning home. In addition to the events, each week's picks will also spotlight awareness in the College Against Cancer's battle against this deadly disease.
Colleges Against Cancer Awareness
Did you know that September is Childhood Cancer Awareness Month? According to the American Childhood Cancer Organization (acco.org), each year an estimated 15,780 children between the ages of 0 and 19 are diagnosed with cancer while 300,000 are diagnosed across the globe. One in 285 children in the United States will be diagnosed with cancer before their 20th birthday.
Celebrity Guest Picker Introduction
Each week we will invite one celebrity guest to join other nine pickers. This week the guest picker with be Dr. Joel Postema, an Associate Professor and Chair of Spanish Faculty. Dr. Postema, a graduate of Calvin College, Western Michigan and Washington University, also serves as faculty advisor for the student organization Colleges Against Cancer at Westminster College.
If you would like to nominate a faculty or staff member to serve as a celebrity email Dr. Zullo with your nomination(s).
Weekly Picks for September 26-27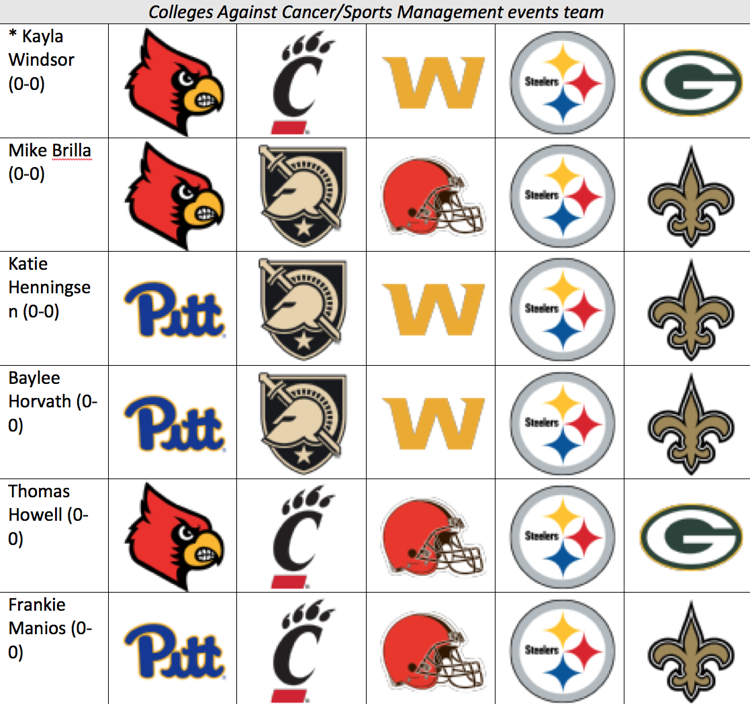 * Windsor serves as the President of Colleges Against Cancer and is always looking for more good students to join the campus organization and help a very worthy cause. E-mail her for more information.