NEW WILMINGTON, Pa.-- As the 2020 fall semester resumes so does the campus' continuing fight against cancer. The Sports Management program has teamed with College Against Cancer to showcase their athletic expertise, or lack thereof, in a weekly "pick 'em" contest. Each week, the Holcad sportswriters will battle Dr. Zullo, head of the Sports Management program, and his Sports Management students.
These students are helping to host fun campus events this semester in partnership with Colleges Against Cancer (led by President Kayla Windsor) to foster greater cancer awareness. These events will help to offset the spring semester Relay for Life that was cancelled due to students returning home. In addition to the events, each week's picks will also spotlight awareness in the College Against Cancer's battle against this deadly disease.
Last Week's Performance
Holcad Sports Editor Mason Flanigan has correctly picked every game the last three weeks, running his streak to 15 straight predictions. It is the longest streak in the history of Colleges Against Cancer Kick Out Cancer Football Picks, but it is indeed only the first year of these picks. Adding in his picks from week two and the official streak is 16 games picked correctly based on the Monday night NFL game featuring the Chiefs over the Patriots. The last time he incorrectly picked an incorrect game was Sunday, October 4th.
Katie Henningsen also enjoyed a perfect 5-0 mark last week as the race for second place overall has become crowded. Celebrity guest picker and head of campus security Osmond Mbaeri was 4-1 in his picks and ecstatic of his Eagles' comeback win over the New York Giants.
Colleges Against Cancer Awareness
While many traditionally associate October as breast cancer awareness month, it is also a month to spotlight liver cancer. With a five-year survival rate of less than 20 percent, liver cancer is more prevalent in men than women and within Asian/Pacific Islander and American Indian/Alaska Native populations. Approximately 42,000 new cases are diagnosed in the United States each year. Symptoms include yellow skin or eyes, nausea and vomitng, easy bruising, fast weight loss and pain in the upper abdomen.
Celebrity Guest Picker Introduction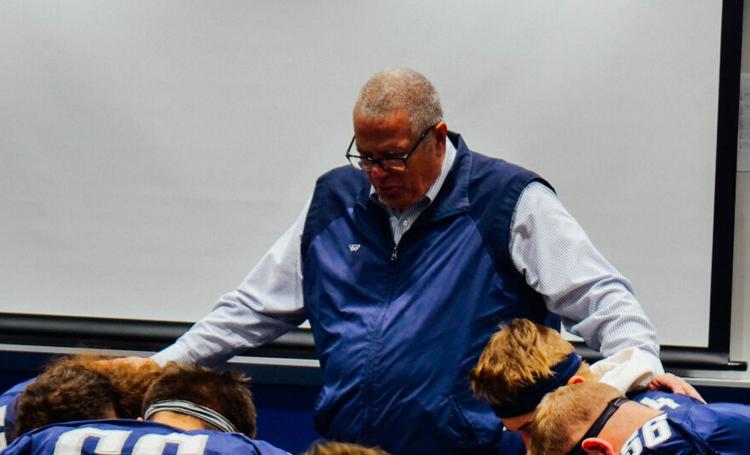 Each week we will invite one celebrity guest to join other nine pickers. Reverend Jim Mohr is this week's guest picker and serves as the Chaplain and Director of Church Relations for Westminster College. A Titan since 2003, Rev. Mohr is a regular at campus events and a big supporter of students of all faiths and denominations. He also serves as an understanding supporter for those who may be having their first conversations about religion. Reverend Mohr has spent time in Florida and New York before making New Wilmington his home. An open door policy makes him a popular person for students to visit to talk about academics, sports, life and more. Whether it is eSports or the latest social trends, Reverend Mohr is quick to learn about the students and truly emphasizes the "We" in Westminster.
If you would like to nominate a faculty, staff or alumni to serve as a celebrity guest picker for future weeks, email Dr. Zullo with your nomination(s).
Weekly Picks for October 31-November 1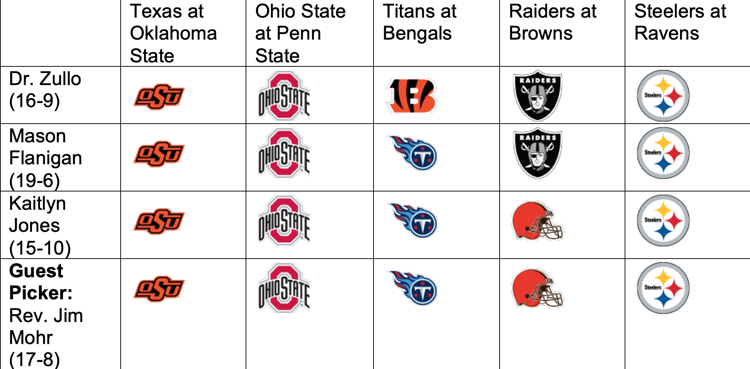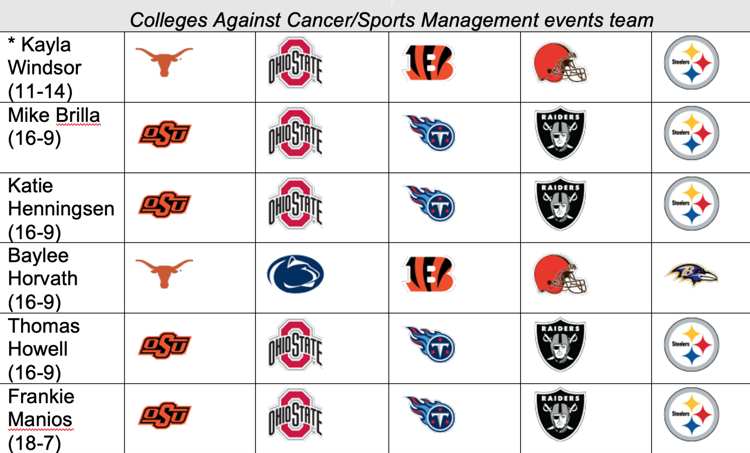 * Windsor serves as the President of Colleges Against Cancer and is always looking for more good students to join the campus organization and help a very worthy cause. E-mail her for more information.