We all know Gene Nicholson was the most successful Titan ever in the athletic arena with countless National Championships and All Americans in numerous sports, but the Titan of a man he was off the field as a human being, teacher, counselor, mentor, role model and family man is even greater.  I shudder to think where my life would be today had he not been at my side, gently nudging me back when I strayed onto paths of reckless, chaotic doom.   How he had the patience to tolerate my antics when the University had deemed me undesirable and was ready to send me packing is a testimony to his forbearance.  He saw of a glimpse of something worthwhile and wouldn't give up on me.
I met him when I came to look at Westminster in the spring of 72, my senior year of high school. I brought a couple of high school football tapes with me with the illusion of thinking I could be a college player. Gene spent some time with me and strongly encouraged me to attend, as we connected as discus throwers.  I wasn't good enough to get invited to football camp but showed up as a walk-on when school started. Like most walk-ons, I ended up with the defense and Gene welcomed me with open arms and endless undeserved praise.  Then as the snow melted in spring I fantasized to be a discus thrower.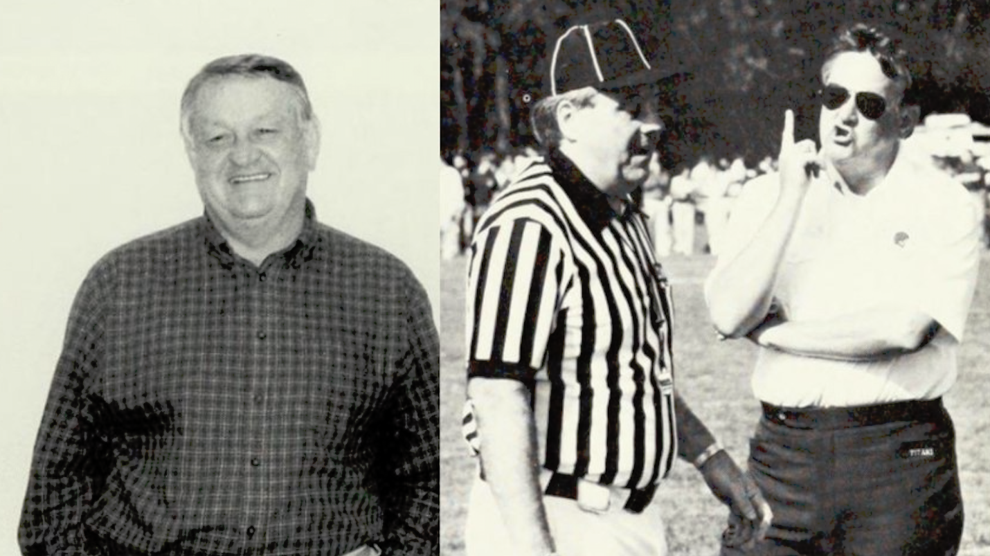 Gene spent endless hours in the discus ring with me, at the foot of Russell Hall, as he was at a college thrower and immediately corrected my faulty mechanics.  Long before track season started I planted a large tree limb in the middle of the field at the distance of the existing college record, with aspirations of breaking it.  Thanks to Gene, I went undefeated in dual meets my freshman season in the discus, my only event.
One day Gene said to me, "Dale Hofmann, you're going to be a decathlete".  Once I realized he wasn't joking, I said Coach Nicholson what are you thinking I'm a discus thrower. His answer was, as you mature and put on weight you're going to become faster, and despite my skepticism, he got me started pole vaulting and high jumping, etc. It took a couple of years but one day our hundred-meter sprinter Michael Szuba was ill, and Gene put me in the hundred and I won. It was mind-boggling to me, I was the slowest guy on the football team in high school and now I won the hundred sprint event in a college track meet?  So it took time and Gene's smiling tutelage but my Junior and Senior years I was undefeated in the high hurdles and won the District 18 Decathlon competition in 1978.  That's unbelievable coaching!  How can one go from only discus to excelling in decathlon?  They say you can't make a silk purse out of a pig's ear but Gene did.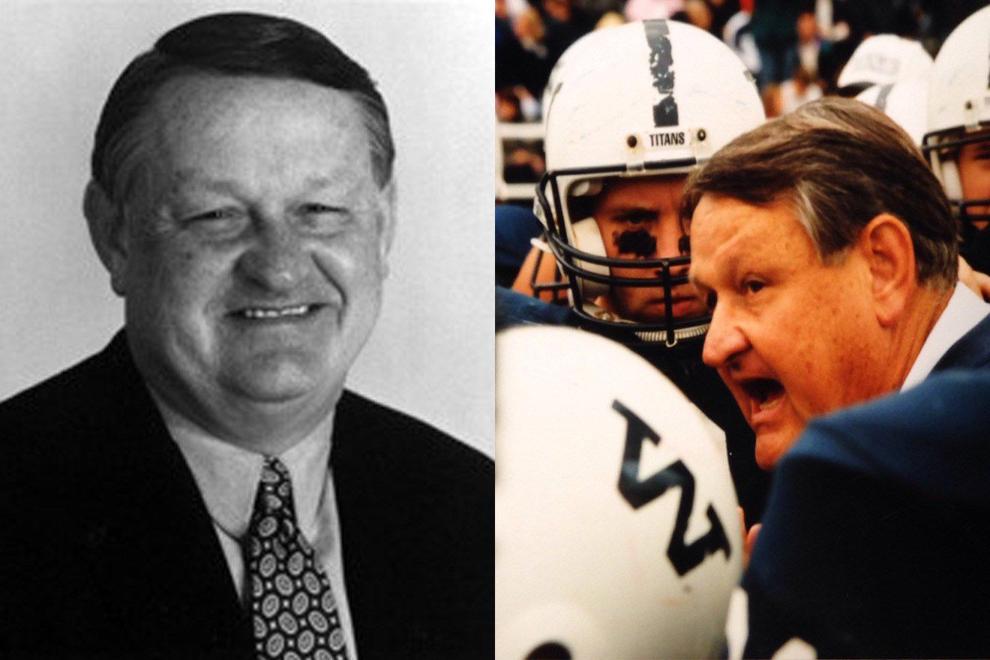 But that's the insignificant side of the story of Gene's tutelage.   I may have been the most immature freshman to enroll in Westminster's history. I was constantly pulling absurdly ridiculous stunts, challenging Gene's patience but his steadying hand was always there and in those "come to Jesus" moments, he always used my first and last name.  He would look me in the eye and say,"  Dale Hofmann, _____________.  There was never any question about maintaining eye contact while nodding yes.  Somehow it was crystal clear there were no other options.
One time I got into a snit with Dean Tom Carver (imagine that, given my arrogant, egotistical nature) and Tom booted me from the dorm and I had no place to sleep.  Gene went so far above and beyond the call and let me sleep in his basement for the semester.  Imagine you have a wife and two young children and you open up your home to a person the University deems as a reckless troublemaker and undesirable!  I still can't believe Barb didn't kick his butt for that.  There were a couple of other stunts I can't really mention that brought Gene to the boiling point but he took a deep breath and didn't kill me, as I surely deserved. 
Another time we had a football game out town and got back very late Saturday night and somehow I managed to sleep through a Stats test at 8:00 Monday morning.  I made it to class by 9:15 as the test was ending hoping to take the test, but digger Bob Meadows wouldn't let me take it, giving me a ZERO for the test which comprised 25% of the final grade.  I knew I was in trouble but thought it if I really aced the final because Stats is a cumulative class where if you didn't master last week's work, you certainly couldn't do today's, that he might let me slide.  So I got the highest grade on the final, by seven points out of almost 50 students, but Meadows still flunked me which meant that I couldn't take Stats II in the spring and thus couldn't graduate, as it was a requirement.  I was fuming mad and told Gene that Meadows could kiss my butt and I was done.  He really gave me an earful that day though and said in classic form, "Dale Hofmann you're not leaving here without your diploma. I saw your SAT score and I'm not putting up with that crap.  Just drive your butt down to summer school for the tests, you don't have to show up for class, and get your diploma."  So I owe my diploma to Gino.
Gene was truly a master of plugging the right peg into the right hole.  As opposed to the military style of management where everyone marches to the same drummer, Gene recognized a myriad of personality types across-the-board exemplifying crazy uniqueness.  But he didn't stifle them providing the one non-negotiable clause, that they coalesce in unison on the focal point at hand.  We didn't have to all approach from the same direction with the same cadence, haircut and mantra. We could come from all different directions as long as that focal point was unanimous.  And that brought out the best in us, allowed us to be individuals and yet attain the highest achievements collectively.
So a couple of stories I must tell for the benefit of those who were there:
Football camp one August and we had gathered for the evening meeting and a little frog was sitting in the grass and I picked him up.  Gene was wearing those blue stretchy Titan shorts, they had a baggie back pocket and without really a second thought I dropped the little Froggie in Gene's back pocket as we entered the building.  A couple of fellow players saw that and gasped, thinking the tortuous ending the frog was about to meet when Gene sat down.  Soon the meeting started and we kind of forgot about it.  After our full team meeting split up and the defense went to a room for our meeting we had all forgotten about little Froggie, but 45 minutes later while Gene was writing on the chalkboard he popped up out of the back pocket with his front legs and head in full view and the entire team broke up with laughter. Gene turned around and looked at us as we tried to muffle our hysteria but when he turned back to the chalkboard again we lost it.  At this point Gene bent over looking at the crotch of his shorts, assuming the seam had split open and just then Mr. frog jumped out onto the floor.  And we all lost it.  Gene picked up the frog and said,  Dale Hofmann, please put your little friend outside.
The other memorable story is that in 75 Gene ruptured his Achilles tendon and was supervising practice in a golf cart.  Midway through the season, at Indiana, I broke my ankle and Dr. Ralph Markley had me on crutches.  Maybe at this point I need to give some background information, that being that first of all, we affectionately called Gene, Gino and frequently when friends would speak about him they didn't just say Gino, they said "Gino your Dad."  I'm not sure exactly where to begin to explain where that came from but it's a combination of things.  Suffice it to say that it arose from the favoritism a father would typically show a prodigal son, like letting me live in his house when I deserved to be booted or giving me his family car for next to nothing.  Anyway, so Monday practice came and I knew a girl attending Westminster who was handicapped and drove a golf cart to class every day and asked her if I could borrow the golf cart. She graciously consented, and I proceeded to show up on the practice field in a golf cart. Needless to say, the team broke out in total hysteria as my "Dad" and I were now both on the field in golf carts. 
So let's just talk about football for a moment, no disrespect to Coach Burry or Coach Fusco but year in and year out, the Titans defense was unbelievable, and it was all Gene.  To look back now at how little we were scored upon is ridiculous. We knew the offense couldn't be counted on to put up 40 points every game and so if we didn't give up any points we knew we couldn't lose. Every game there would be a play or two where the offense gained 5 yards on the ground against us and when we would get back to the defensive huddle there would be screaming, "come on guys what the hell are we doing."  And the irony is, OK we had Mark Claire, Gary Devlin and Frank Emmanuel,  a couple of legitimate studs, but the rest of the defense was a bunch a ragtag, skinny, cast off misfits.   Come on, Rick Cesari and Scott McGlucky, 175 lbs soaking wet if they're lucky. Steve Nelson, Dave Armiheiser and Ricky Tony, more like 150 soaking wet.  But we believed in ourselves because Gene believed in us. He taught us if everyone does their job we will give up 2-3 yards, three plays in a row and then they must punt.  But if we freelance we may get a sack or a tackle for a big loss on one play but give up a big gain on the next. So we learned that if everybody does their job there's a very small chance for offensive success. That was a good lesson for life, the whole is greater than the sum of the parts. 
To look back at some of our defensive humiliation, Texas Lutheran, two-time defending national champs, 33 game win streak, 350-yard average ground game and we shut them down 31 to nothing.  They didn't even try to conceal their laughter when looking at what a bunch of scrawny, unimpressive physical specimens we were at the pregame banquet.  But Gene's genius for creating a scheme and then convincing us to believe in execution made a lethal combination. 
And when the defense got a chance to be the offense, look the hell out.  Interceptions, punt returns, blocked kicks instantly turned us into maniac blockers and Heisman Trophy runners. We were going to milk that turnover for all it was worth come hell or high water. 
There was the famous Allegheny game which put us into the playoffs in 1976. Allegheny was highly rated and had an excellent defense and our offense couldn't score and at one point Allegheny picked off a pass, returned it for a touchdown and we were down seven zip. Later we caused a fumble in their territory and Walt Sieminski came in and booted a field goal to make it 7-3.  Now the game was getting late in the fourth quarter and Allegheny punted to protect its lead.  We formed our punt return wall and our maniacal blocking zeal went into full force, and the slowest return man in the history of Westminster, Turtle Rimbey, returned the kick 70 odd yards for the winning touchdown. 
One of my personal favorite moments came while practicing onside sidekicks one day. Kenny Graff came from the side kicking the top of the ball perfectly so it tumbled along the ground towards the sideline and as it got to me over in the recovery area, made that perfect bound 10 feet in the air where I leaped to grab it, sidestepped a defender and ran for a touchdown. Now, of course, I knew you couldn't advance an onside kick and of course, I knew you couldn't spike the ball after scoring but how often does a defensive guy get a chance to score? You're damn right I spiked the ball when I got in the end zone.  And of course, Coach Fusco instantly said, "Dale Hofmann, start running."  Gene had to conceal his laughter, he knew I wouldn't spike it in a game.
So to wrap up, I want to thank Gene for the camaraderie, trust and confidence in teamwork that he instilled in us.  It bore invaluable lifelong dividends.  When I was caught by a huge storm in the Gulf of Alaska, eventually sinking the boat, the ability to stay focused and not panic was crucial for survival.  I owe Gene for teaching me composure under pressure.
I know we all have our appointed date with the Grim Reaper, I'm just sorry that Gene's didn't come 15 years later. As my children are grown and life's urgent schedule starts to wind down, I would have relished the opportunity to spend some lazy vacation time with Gene, pondering and ruminating about life. 
Thank you, Gene.  I love you and am forever grateful,
Dale Hofmann '78