In January, the Baseball Writers' Association of America (BBWAA) elected two new members to the Hall of Fame: Larry Walker, and THE Derek Jeter. I emphasize "THE" before Derek Jeter because of his glorified status as one of the greatest shortstops to ever play the game. I'll later explain how this is nowhere near true. But even as the dust should have settled after the election and the news cycle would drown it out, there was an uproar from none other than the Yankees fan base over… not getting a vote from every writer. Here's the very first edition of "That's Outrageous" with Garvey Biggers.
Let's make a few points because I can talk about this all day on why Derek Jeter was not, and should not be a unanimous Hall of Famer.
---
1. He was a "Compiler"
In the baseball world, a compiler is someone who plays a ton of years, is lucky enough not to sustain injuries, and compiles stats to make their resume look better. We all know people who do this in their work resume: doing volunteer activities, post their GPA, blah, blah, blah. We look at those people as successful, but often they don't compare to the person we know that did more with less. Derek Jeter was a prime example of a compiler. Over his 20 year career, Jeter compiled 3,465 hits, a career .
310 batting average, and a .817 OPS, the stat that tells compiles his on-base plus slugging percentage. Now, if we delve deeper into the numbers, his advanced stats, the stuff that really shows how great a player is, he is slightly above average. Jeter's OPS+, the stat that adjusts his career OPS to the home ballpark he plays in, shows he was 15% better than an average player, proving that he and Yankee Stadium are a sham. Upon that, his 5 Gold Gloves were purely based on his hitting statistics. Before 2010, the BBWAA really never looked at the quality of the fielder and went with who had the best year at the plate. Jeter finished with a career .976 fielding percentage, currently sitting 42nd all-time in SS fielding percentage.
THAT'S OUTRAGEOUS.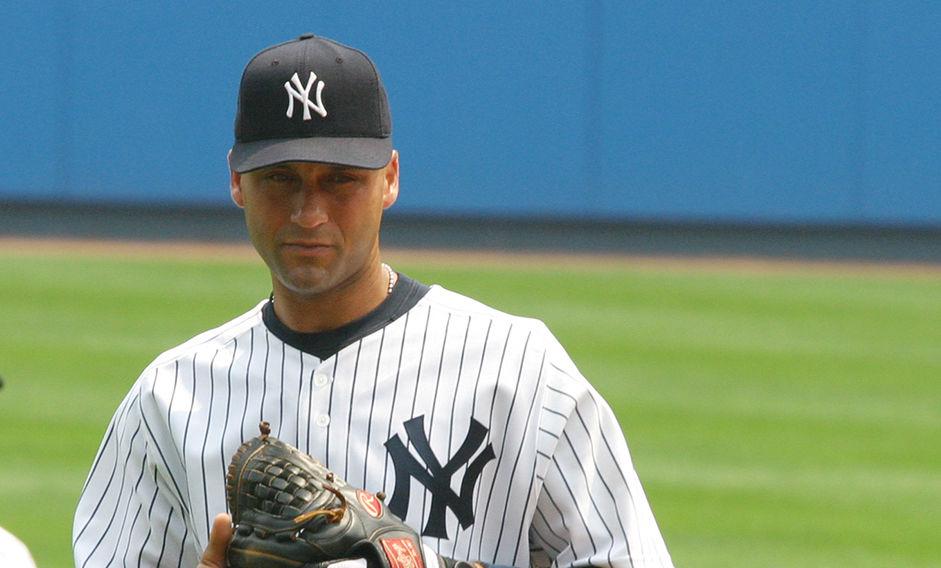 ---
2. He is a Yankee
The only reason this is such a big deal is that the Yankee fan base, their small militia of die-hard fans, are clambering to get him something he didn't earn. For God's sake, he was never even the best player in his league, let alone the best shortstop on his team. Alex Rodriguez could have filled that position and would have played it at a higher level, had Jeter swallowed his pride and moved to third base for the better of his team. Had Jeter not donned the pinstripes, we would all look at him objectively, saying he was an average player, and he would have spent anywhere from 7-8 years on the ballot until he nearly fell off the ballot. But since he was a Yankee and played in baseball's Mecca, he should be considered a unanimous HOFer?
THAT'S OUTRAGEOUS.
---
3. There has only been one unanimous Hall of Famer (even though it wasn't warranted)
Last year, the BBWAA unanimously selected relief pitcher, Mariano Rivera, to the Baseball Hall of Fame. Thus he became the first player in history to be unanimously chosen to the Hall of Fame. That, to me, is outrageous within its own. On the same ballot, relief pitcher, Trevor Hoffman was also selected to be honored for the HOF, too, however, waiting three years to be chosen. The reason Rivera was selected: he finished with the most saves in baseball history (51 more than Hoffman), more men have walked the moon than have scored on him in the postseason (11 runs surrendered, to 12 men to walk the moon), lastly, HE WAS A YANKEE. Only one of those stats stands out to me. And it proves that being a Yankee is a benefactor on the field and on the ballot. A stat as arbitrary as saves should not garner the first unanimous selection because one, you need to have the lead by more than three runs, two, you can come in with two outs and earn a save, lastly, you don't have to mess up. Rivera became the first unanimous selection over players. Players like Jackie Robinson, Hank Aaron, Barry Bonds (who's still waiting on the ballot), Rickey Henderson, Babe Ruth, Micky Mantle, the list can go on. And the fact people want Derek Jeter to be the second player to be unanimously selected.
THAT'S OUTRAGEOUS.