The Method is a Netflix series that revolves around Rodion Meglin, played by Konstantin Khabensky, a particular detective of the Russian police. He is more of a vigilante who is on the hunt for psychos who the standard police system cannot catch.  Season 1 has 16 episodes that introduce a fresh premise into the detective genre.
His method is mysterious to everyone around him. He works alone until Esenya Steklova, played by Paulina Andreeva, a recent law graduate, manages to be hired by Meglin as an intern. One of the main reasons Esenya would like to work for Meglin is because her mother was murdered under some extraordinary and mysterious circumstances. Her father, a senior official, does not seem to tell her everything about the confusing death. She hopes the method she will learn from Meglin will help her find her mother's killer.
Starting with The Method director, Yuri Anatoleyvich Bykov is a well-known and respected director in Russian film series. He has directed several Russian films that have all been recognized locally and some even nationally. Starting in 2009, he directed The Boss, in 2010 To Live (debut film), in 2011 / Collectors (TV series), 2013 / The Major, 2014 The Fool, 2014 Yolki 1914, 2015 The Method (TV series), Sleepers (TV series), 2018 The Factory, 2018 Guard, and finally in 2019 he directed the second season of The Method. The Fool received many prestigious awards, including the Grigori Gorin prize for the best script and the diploma of the Russian Guild of Film Critics at the Kinotavr-2014 festival. The film was also highly rated by The New York Times critic Stephen Holden. Stephen Holden named it as one of the five best films of 2015.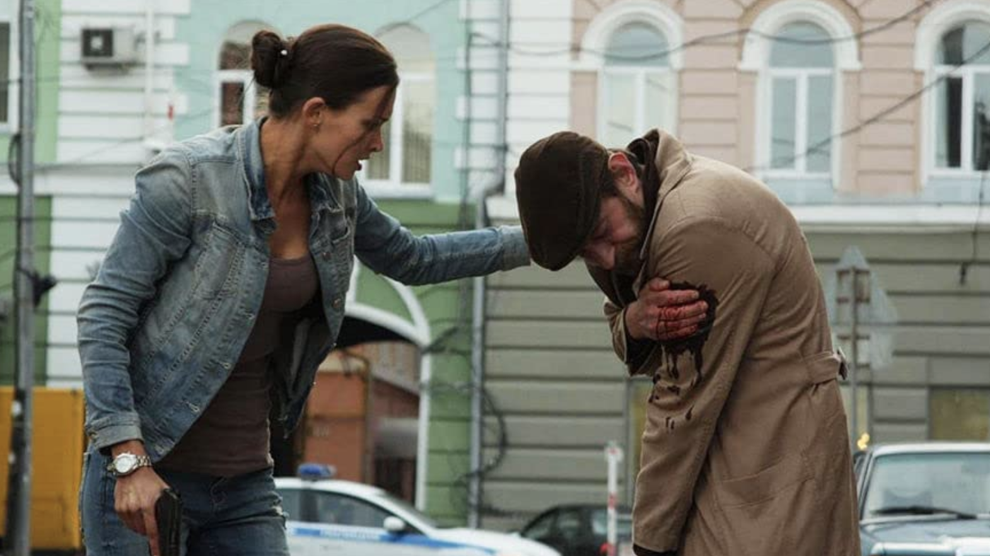 The actors in The Method are also all well known throughout Russian films. The three main actors/actresses are Konstantin Khabensky, who plays Rodion Meglin. Paulina Andreeva, who plays Esenia Steklova, and Alexander Petrov, who plays Zhenya. Konstantin Khabensky is the biggest and most famous out of the bunch. He is heavily respected in Russia and even has an international name with roles in non-Russian films. The following two are right behind him, though, in terms of popularity. Paulina Andreeva and Alexander Petrov are well-known in Russian cinema and have held a lead role in multiple other shows. In my opinion, after reading about everyone involved, it seems that this is a pretty stacked roster of actors, actresses, and other cast members on set. 
---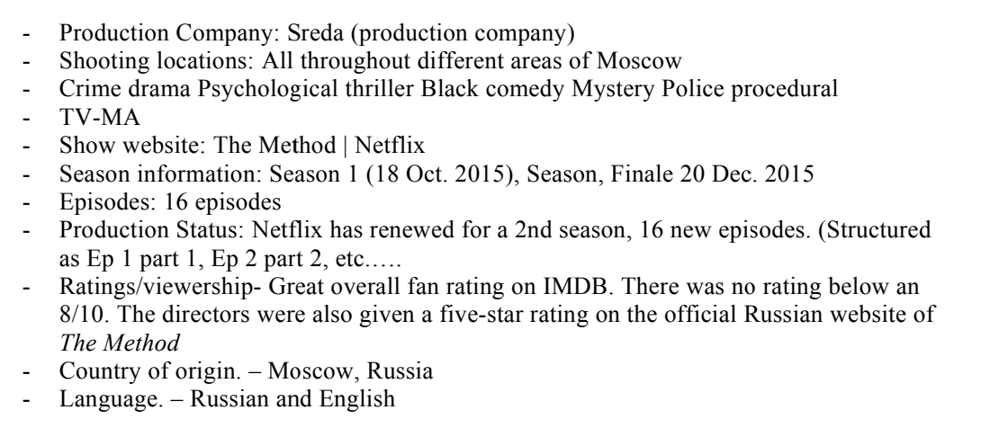 ---
With all this known, I was excited to watch this show to see if it lived up to the potential hype behind it. This was a fantastic series that was filled with action and suspense around every corner. The only issue with The Method would be the audience it targeted is very niche. I am a huge fan of murder mysteries and other genres, but not everyone finds these types of series attractive. 
In The Method, everyone involved does a great job at portraying themselves as these characters and they all stick to their character's role as if it was their real life. The actors do a great job putting you into the story and making you feel like you are there. The biggest challenge that this series faces is the fact that there is a solid female lead throughout the entire season. She is not your typical female character, though. This might be one of the most badass female characters I have seen in a series. The aspect is that they do not make it to over that top for Esenia Steklova. She is this badass intern for this crazed detective, but she can also be beaten on occasion. They do not have her winning every fight, but she can still fend for herself and survive. Overall, the script really allows for the story to flow smoothly and continue to hold our interest even during some of the slower building parts.
A director can only do so much for a series because, at some point, it falls on the actors and actresses to take over and run the show. That is precisely what happened in The Method. The actors and actresses did a great job throughout the first season, drawing me in and making me attached to not only them but their stories. They had me watching this with a piece of paper with me trying to solve everything. Every little detail was essential and that was all due to the actors and actresses. Whether it was a facial expression or a subtle change in tone, I noticed every little detail and loved it. 
My final recommendation is to go on Netflix right now and binge-watch the entire first season of The Method and if you have the time, watch the second one right after. If you are interested in these mystery crime drama shows, you will love this series. The only way for this show to improve is to continue going and keep the story alive. There is so much potential for the series to continue for more seasons and I believe that Yuri Bykov will make the most of his opportunity.