What can I say that's new about where we are as a society and country? Nothing. We are living in an unprecedented time. We're cooped up in our homes and not allowed to do very much other than go for walks around the neighborhood. Some people can go to Sheetz to hang out in our cars like a bunch of high school kids as we look to pass the time outside of our homes. But for Liberty University (LU), their students, faculty and administration, these safe and sure activities cannot be shared.
On March 15th, President Jerry Falwell Jr. went against the grain of what was a widespread consensus that allowing people back on campus was a health risk. He claimed the COVID-19 virus was blown out of proportion and that his students have a "near-zero mortality risk." Well, since then, 12 students have come down with virus symptoms, with one confirmed case reported on March 27th, THAT'S OUTRAGEOUS.
I don't want to become one of these college presidents who are pushing this problem off on someone else by sending 20 year olds with near zero mortality risk to sit at home for the rest of the semester, often with grandparents in the house who truly are at risk. (2/4)

— Jerry Falwell (@JerryFalwellJr) March 15, 2020
There is a lot to unpack with this wildly ignorant decision to bring these students back to campus, a lot stemming from LU's religious and misguided beliefs in opening their doors again. To claim pro-life and assure, and double down on their reassurance to keep people safe is entirely ignorant, and even though a stay at home order has been in effect since March 27th, LU is continuing to keep their doors open while most classes have moved online, THAT'S OUTRAGEOUS.
However, I can't say I wasn't in the same boat as Falwell Jr. for a while. That same week he decided to bring people back to campus; the Westminster baseball season had been officially postponed, as well as all spring sports.
Here's to brighter days and being resilient in a time of adversity. #Grit pic.twitter.com/lQ4pKEJhZf

— Westminster Baseball (@WCTitanBaseball) March 14, 2020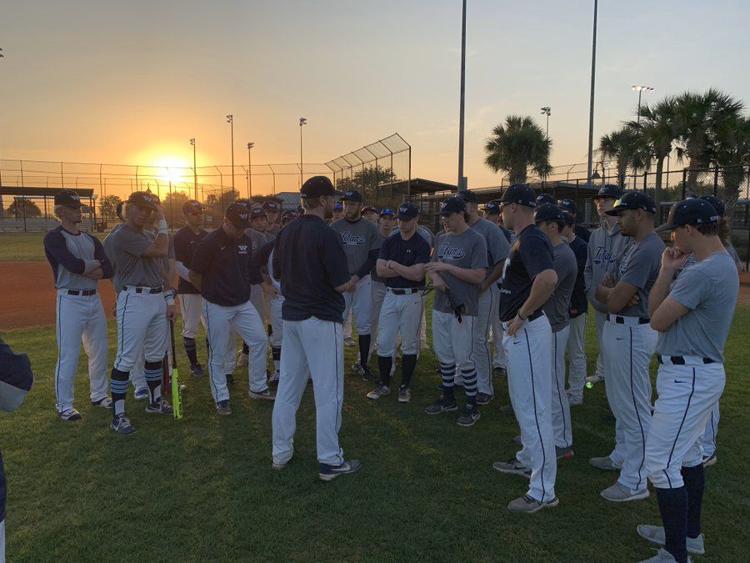 We were called off the field in the bottom of the second inning in a doubleheader that was going to be our last games in Florida; the scene was heavy emotionally. Watching our seniors who worked all four years, putting in all that effort, time, and passion and then having it ripped away from them was gut-wrenching. Witnessing this was hard on me, rehabbing six months from a shoulder surgery and on my way back to playing shape had me calling the virus a hoax as well.
However, after seeing the damage it had done two weeks after we were pulled off the field, I realized this virus was no hoax, Falwell hasn't yet gotten the memo. He is utterly negligent of the harm he is causing, either way, THAT'S OUTRAGEOUS.
Eventually, we will get back on our feet as the dates for our stay at home orders continue to get pushed back weeks at a time, and those seniors that had their seasons ended early weigh coming back for a fifth year, we will look back on President Richardson's decision to send people back home a blessing.
Here at Westminster College, we should be grateful for someone who put our lives and personal safety first instead of seeing this pandemic as a fluke. Although we miss our friends and miss being able to be around one another as the weather begins to warm up and we ramp up classes, we are safe, and for that we should be grateful.