With the Coronavirus forcing us to stay in our houses, there is not much to do. There is not much to watch in sports either because all the professional leagues and events are cancelled through much of the summer. There are only reruns of some of the most rememberable games.
But there was one major event took place over the weekend. That event is WWE WrestleMania. It was the 36th edition of this and it was the first time it played out as a two-day event at the Raymond James Stadium in Tampa and the WWE Performance Center in Orlando.
Even though no one was in the audience, that didn't stop the action.  I emailed some Westminster College students and alumni that have been long-time fans of WWE to learn their views on WWE and WrestleMania. Here are those questions and their responses:
1) What are your thoughts on the modified WrestleMania?
2) What is your favorite past WrestleMania moment?
3) Would you rather be on team Smackdown or Raw? Why?
4) If you could choose one wrestler for a tag team match who would it be? Why?
Dr. Christopher Medjesky, Alumni, Class of 2005, Founding Member of Professional Wrestling Studies Association and Assistant Professor of Communication at the University of Findlay
1)    It is was a horrible of an idea as I can possibly imagine. The two-day event aside, the idea of even having actual interactive matches right now is absurd. But professional wrestling is often the absurd, so I am in no way surprised.
2)    Favorite WrestleMania moment? Miss Elizabeth's return to Macho Man at WrestleMania 7. I rarely cry. I still cry every time.
3)    I actually don't watch WWE much anymore. Are there different teams?
4)    As my partner? Chris Jericho. Because who wouldn't want to hang out with Jericho? But if it has to be WWE, I'd probably go with Samoa Joe. I bet he tells funny jokes.
Michael Peters, Alumni, Class of 2019
1)    I would have preferred if the WWE would have waited to put on WrestleMania when this whole thing passed. I understand why they would want to put on the show but I rather see a crowd there. 
2)    My favorite WrestleMania moment is also my first wrestling memory. WrestleMania 17 and the ladder match between The Hardy Boys, Edge and Christian, and The Dudley Boys. Watching Jeff Hardy getting speared by Edge of a ladder was unbelievable. It still blows my mind now and that was such a fun match
3)    I much rather be on team Raw. I loved and still do love Raw. I consider it to be the flagship show even though they are promoting Smackdown to be that now. Some of my favorite memories happened on Raw and I would love to be a part of that.
4)    Even though he isn't in WWE, I would choose Kenny Omega. Watching him in New Japan Pro Wrestling, and now in AEW, he is super entertaining, seems like a good person, and his nickname says it all. He is the best bout machine.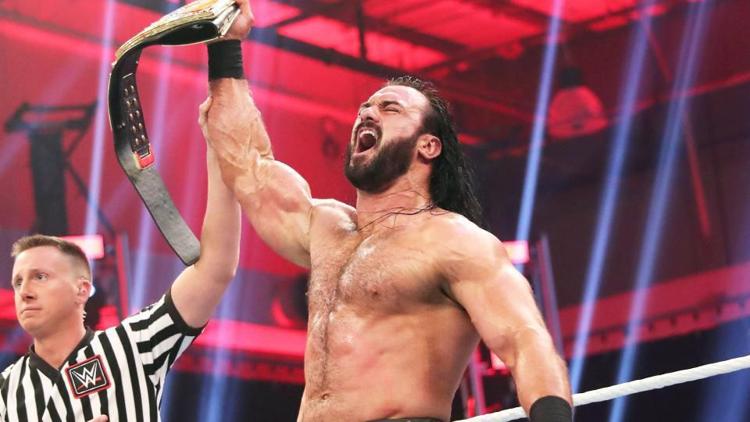 Kellen Gursky, Alumni, Class of 2017
1)    I'm all for the modified WrestleMania. I do understand the backlash that some people are creating saying that it should be canceled/postponed. But to be honest with you I'm just happy that we as wrestling fans are still getting the show. Amidst all this I applaud WWE for trying to entertain us.
2)    My favorite WrestleMania Moment really isn't a moment per-say. It was when I went to WrestleMania 23 in Ford Field Detroit in 2007. But if I had to pick a moment it would be the Hardy Boyz returning at WrestleMania 33. 
3)    I think I'd rather be on Team Raw. Just because it's the flagship show of WWE.
4)    Definitely "The Fiend" Bray Wyatt. I'm a little biased though. He's just my favorite thing in wrestling right now. And his character is incredible.
John Granahan, Junior, Class of 2021
1)    I personally feel that holding WrestleMania 36 inside a closed training facility is the safest, and really only, option the WWE had; however, WrestleMania is "the grand daddy of them all" and what really makes it so special is the atmosphere the fans create for each match. It will definitely be difficult to watch with the chants and legendary signs in the background, but WrestleMania is still WrestleMania.I've seen every WrestleMania for the past 7 years; so, I'm keeping the streak alive.
2)    My favorite WrestleMania moment was in WrestleMania 30. To start the night, Hulk Hogan, The Rock and "Stone Cold" Steve Austin all came together and drank a signature "Cold Stone" beer.
3)    Team Raw for sure, I grew up loving "Stone Cold" and Degeneration - X.
4)    If I had to choose one wrestler for a tag team, I would choose CM Punk. My all-time favorite wrestler and an overall mean dude, it would be so much fun to cut promos with him before big matches.
Denny Wolfe, Alumni, Class of 1997
1)    If you mean by having the event over two days, I like the chance to have something to watch over two nights. It's probably more significant now with so many people looking for new content while facing stay-at-home orders.
2)    Oh wow. There's so many to choose from, and it's hard to pick just one. I was 9 years old when the first WrestleMania happened, so I remember the excitement of the Hulk Hogan main event. I had a friend who tape recorded WrestleMania 3, and for as great as the Hogan/Andre The Giant match was, it could not compare to the Ricky Steamboat/Macho Man match. SO GREAT. In recent history, there were so many moments from which to pick with WrestleMania 17, but the Tables, Ladders, and Chairs match is forever-etched in my brain.
3)    I'm probably more of a Raw fan because I think Becky Lynch has built a terrific character. Ten to 15 years ago, women's matches lacked any real substance, but today, the women's division has terrific athleticism. As a fan who loved how old-school guys like Roddy Piper and Ric Flair worked the mic, Becky brings that skill. Personality carries a lot of weight with me.
4)    I always wanted to be a heel (bad guy) who was a real smart aleck, so I'd need someone who had the muscle and could back it up. So, I think the Undertaker would be a great counter to a loudmouth like me. Great tag teams have great contrast. But I'd be dumb not to say The Rock would be great to pair with too.
Kendall Graham, Alumni, Class of 2019
1)    It's unique for sure. The fact that fans won't be there sucks and takes away a very important aspect of WrestleMania. However, it's completely understandable why the choice was made. My mom and I were actually supposed to travel to Tampa for WrestleMania and all the additional events this week. It's really disappointing that we don't get to go because we were looking forward to the whole experience, but the appropriate decision was made considering everything going on right now. All that being said, WWE has done a fairly good job on the past couple weeks of RAW and SmackDown with no audience, so I think the wrestlers will continue to embrace the situation they've been given and make it the best they can. At the very least, I think there's going to be lots of people tuning in - just to see what happens!
2)    I actually have two that come to mind! The first is Seth Rollins cashing in his Money in the Bank contract and winning the belt. The Roman & Brock match was already good, but there was such an insane reaction when the "Heist of the Century" happened. I had just started watching WWE within the past year, so that was the first WrestleMania I followed and I was a fan of Seth since I started watching, so it sticks in my head. I still love seeing pictures/videos of him swinging the belt above his head on the ramp once he had won! The second moment would be last year's "Kofimania". It was such an important moment in WWE history, on top of it being a fantastic match. Whether you were a Kofi or Bryan fan before the match, it seemed like EVERYONE was rooting for Kofi to win because it was more than just someone new winning the championship belt. The crowd loved it when he won and seeing the whole New Day faction become genuinely emotional about the win was touching. Additionally, hearing the New Day talk about the win on their podcast recently solidifies it as one of my favorite moments. 
3)    I'd rather be on team RAW. I've just always enjoyed the RAW production more and especially after multiple drafts, it seemed like my favorites usually ended up on RAW. So RAW would definitely be my vote on that one! 
4)    I would probably choose Alexa Bliss to be my tag team partner for a match. She's my favorite female superstar and I think she'd be a great person to tag with. She seems very likable outside of WWE and in the ring, she's an excellent performer and speaker. She's made a big impact for only being "5 feet of fury"!