NEW WILMINGTON, Pa.-- Westminster College has named Professor and Outgoing Chair of the School of Communications Professor Dr. David Barner as the recipient of the 2020 Distinguished Faculty Award (DFA).
Jeffrey Coker, Vice President for Academic Affairs and Enrollment Management, revealed the news on Monday
"Please join me in congratulating Dr. Barner, and thanking him for his outstanding 39 years of service to Westminster College and its students," Coker wrote in the announcement.
Barner retires in June and the Board of Trustees has given him the title of professor of communication, Emeritus.
Each year, Westminster College names an exceptional faculty member to receive the faculty's most prestigious honor. Students, alumni, and colleagues make the nominations.
Dean Coker shared excerpts from some of the nomination letters submitted on Barner's behalf.
This year's recipient received overwhelming support. Here are just a few of the many notable excerpts from the many letters of support: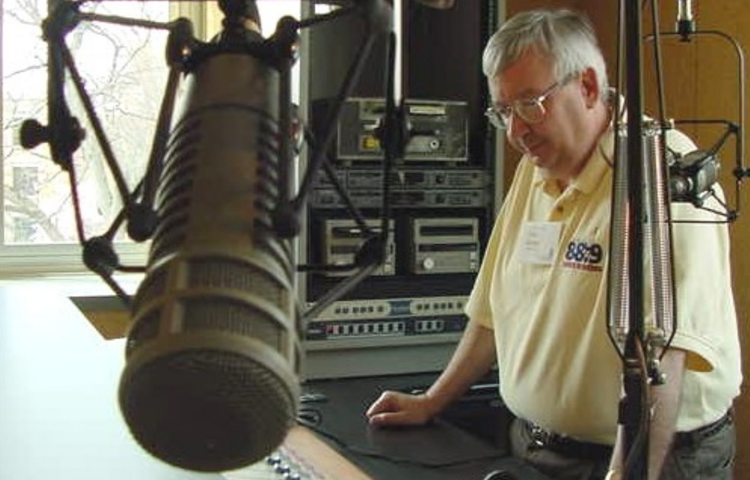 Dr. Barner is an inspiring instructor who links theory to practice and provides relevant real-world examples of how his course material relates to current events.

Outside of my own father and mother, I'm not sure another person has had near the effect on my life that Dr. Barner has had. I am who and what I am today because of the four years I spent at Westminster working at the radio station and learning the lessons he taught.

Dr. Barner's honest, kind, empathic, and humbling qualities have stood out for me…

He taps into student motivations, igniting curiosity for acquiring knowledge and providing service above self.

His teaching philosophy, rooted in experiential learning, has been a driving force in my own pedagogy. Students look toward practical and adaptable classroom experiences to inform their life and career outside of college. Dr. Barner was that driving force for me.

His former students return to campus regularly. When they visit, they share many colorful stories about him while reinforcing the lessons he continues to teach.

His steadfastness, dedication, and service through the years make him more than a professor. He is a significant character in the story of Mother Fair and one of the striking individuals who put the "WE" in Westminster.

It did not matter what time of day, if you had a problem, Dr. Barner was always right there to help out because he cared so much about us and wanted us to succeed.

The amount of growth from the first shift to the last is outstanding for just about everyone in that class.

In an industry rocked by constant technical innovations, corporate mergers, and daily moral challenges, we continue to vitally serve our communities thanks to lessons learned from Dr. Barner and Westminster College.

He has mentored numerous students that have gone on to be greatly successful at places like ESPN, WFMJ, WPXI, Fox News, ABC, NBC, CBS, and many other notable locations. Many of his former students have gone on to win national awards such as the Emmy, Edward R. Murrow, Dove, and Webby. Dr. Barner has also directed our campus station, Titan Radio, for many years.

I believe that the person who instilled in me and many, many others a responsibility to use our voices well as journalists, communicators, and citizens, is a soft-spoken gentleman who deserves the honor of being recognized as Westminster's 2020 Distinguished Faculty member: Dr. David Barner.
The College awards the Distinguished Faculty Award to an individual who has, over a sustained period of time, demonstrated characteristics of the most outstanding faculty – intellectual vitality, instructional excellence, effective communication skills, the ability to motivate or inspire, compassion and concern for student success, collegiality, and leadership.
The DFA honors someone whose commitment to and passion for educational excellence is without bound. In recognition of these achievements, the names of all Award recipients are added to a plaque that is mounted prominently in a place of honor near the East entrance of Old Main.
A selection committee, whose membership includes former recipients of the award and representatives from the administration, support staff, student body, and alumni, reviewed the nominations.