NEW WILMINGTON, Pa.-- For the first-time ever, Westminster College revealed the winner of the Distinguished Faculty Award during a live announcement on Facebook Live. The College has named Religion and Philosophy Professor Bryan S. Rennie with the award for 2020-2021. He is the 33rd recipient of the honor, recognizing outstanding teaching.  Rennie is one of the leading authorities on the 20th century Romanian philosopher Mircea Eliade.  Rennie has also announced he will retire in May.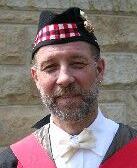 Rennie arrived at the Westminster campus in 1992 as a part-time instructor. The College hired into a tenure-track position in philosophy and religion in 1994. Rennie served as the Vira I. Heinz Chair as Professor of Religion from 2002 until 2017.  He also served as Chair of the Department of Religion, History, Philosophy and Classics for a decade starting in 2007.
He earned an undergraduate degree, master's degree and Ph.D. from the University of Edinburgh, Scotland.
Rennie was responsible for introducing the Westminster community to the traditions, history, culture and philosophy of Tibetan Buddhism. On multiple occasions, he helped the College host Tibetan monks from the Gaden Shartse Monastery.
---
From the WCN archives-- 2010 Tibetan Monk Visit
---
Students have called Rennie, a "master teacher."
Last year Rennie's latest book was published. An Ethology of Religion and Art: Belief as Behavior, published by Routledge, was written after 15 years of research—proposes an improved understanding of both art and religion as behaviors developed in the process of human evolution.
The Distinguished Faculty Award is Westminster's highest teaching award. It is presented to a tenured faculty member who has, over a sustained period, demonstrated characteristics of the most outstanding faculty-—intellectual vitality, effective communication skills, the ability to motivate or inspire compassion and concern for student success, collegiality and leadership.
The DFA honors someone whose commitment to and passion for educational excellence is without bound. In recognition of these achievements, the names of all Award recipients are added to a plaque that is mounted prominently in a place of honor near the East entrance of Old Main.
A selection committee, whose membership includes former recipients of the award and representatives from the administration, support staff, student body, and alumni, reviewed the nominations.
---
Watch the Facebook Live announcement.