NEW WILMINGTON, Pa.-- As the 2020 fall semester resumes so does the campus' continuing fight against cancer. The Sports Management program has teamed with College Against Cancer to showcase their athletic expertise, or lack thereof, in a weekly "pick 'em" contest. Each week, the Holcad sportswriters will battle Dr. Zullo, head of the Sports Management program, and his Sports Management students.
These students are helping to host fun campus events this semester in partnership with Colleges Against Cancer (led by President Kayla Windsor) to foster greater cancer awareness. These events will help to offset the spring semester Relay for Life that was cancelled due to students returning home. In addition to the events, each week's picks will also spotlight awareness in the College Against Cancer's battle against this deadly disease.
Last Week's Performance
The students came alive last week as Holcad Sports Editor Mason Flanigan and sophomore Mike Brilla posted a perfect 5-0 record. ESPN guest picker Ben Webber was 3-2. It is a close race as there is a four-way tie for first place with four pickers, including the combined tally of the guest pickers, at 10-5 while three are tied for second place at 9-6. The updated tallies, including student leaders, are listed below with this week's games.
Colleges Against Cancer Awareness
October is Breast Cancer Awareness Month. Despite playing before smaller crowds the NFL and the NFL Players Association are doing their part to eradicate this awful disease through their Crucial Catch campaign. If you have seen coaches and athletes in colorful hats on the sidelines it is to promote awareness for hats that fans can purchase in an effort to raise money. To learn more, visit the website of the campaign at nfl.com/causes/crucial-catch/ to hear from the players on how cancer has impacted their families. Bid on game worn gear and purchase Crucial Catch gear. Since 2009, the campaign has raised over $22 million for the American Cancer Society and also promotes the importance of preventive screening and other life-saving resources.
Celebrity Guest Picker Introduction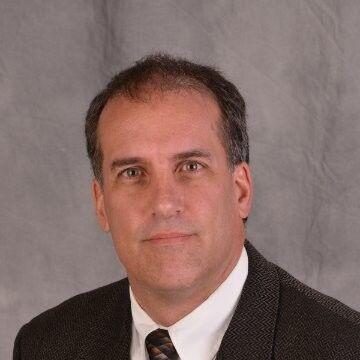 Each week we will invite one celebrity guest to join other nine pickers. Professor Eric Gaber is this week's guest picker and is an enthusiastic educator in the School of Business. Professor Gaber heads the Entrepreneur Center at Westminster College, has established a new minor and is highly active in connecting students to entrepreneurial opportunities with the community and Westminster alumni. He has also attended at least one home event for every sports team at Westminster in his short time here with the exception of golf (which he plans to support as soon as athletics resumes).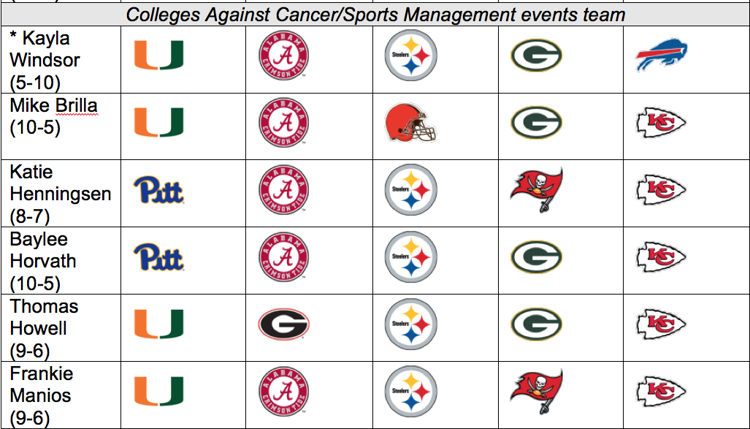 If you would like to nominate a faculty, staff or alumni to serve as a celebrity guest picker for future weeks, email Dr. Zullo with your nomination(s).
* Windsor serves as the President of Colleges Against Cancer and is always looking for more good students to join the campus organization and help a very worthy cause. E-mail her for more information.