NEW WILMINGTON, Pa.-- The award-winning, student-produced music video "I'm Coming Home" from singer-songwriter JD Eicher went public on Thursday.  It  showcases a unique collaboration between Westminster College students, alumni and faculty.  Students created the video last fall as part of the Two-Day Titan Music Video Challenge.
Eicher graciously shared his music and participated with the undergraduates at his alma mater.  The assignment took 48 hours to film and edit.
"It's a great way to get immersed in the project.  I think a lot of creativity comes out when you have some kind constraints. So when you only have a little bit of time, you've got to get creative and move quickly. It seems counter-intuitive, but it's the stuff that happens quickly that is the magic."
The students also received Eicher's song cold when the clock started for the two-day competition on Oct. 24.  They were required to come up with concepts and map out production plans before they started shooting.  They also worked the nights on editing and finishing touches.
Eicher, a 2009 graduate, officially released the video to the public this week as it is one of the songs featured on his new EP "Court Street" dropped in early April.
---
---
The Westminster students behind the video competed in a national competition and received a Festival of Media Arts Award of Excellence from the Broadcast Education Association on April 10.
Constantine Kallaur, Joe Meinert, Jaclyn Bleggi, Mason Flanigan, Nikyah Beckwith and Jimmy Boyle produced "I'm Coming Home" as part of the in-class competition.  Bleggi served as the primary on-camera character. The single-camera video production course created two teams of students mentored by alumni Doltyn Snedden (2017) and Troy Jackson (2018).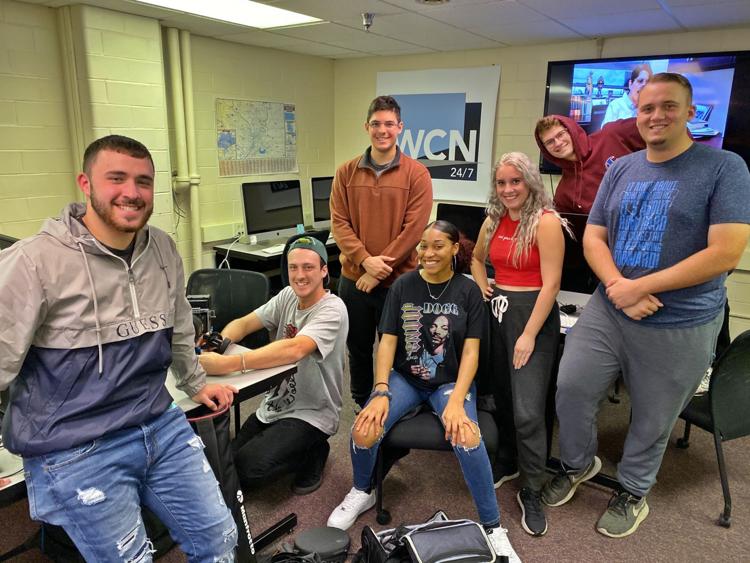 HANDS-ON LEARNING & ALUMNI COLLABORATION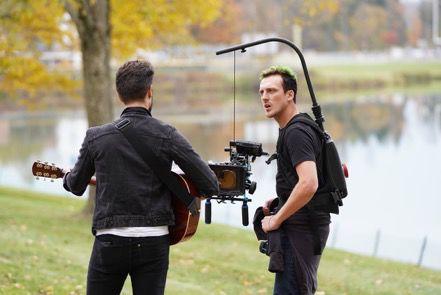 School of Communication lecturer Bradley Weaver coordinated the closed competition as an immersive learning project challenging the two teams to compete in music video productions in 48 hours. Team Doltyn produced "I'm Coming Home."
Nikyah Beckwith, a sophomore Broadcasting and Media Production major, worked as the producer and assistant director on Team Doltyn.  Joe Meinert is a sophomore studying Broadcasting and Media production.  He operated the  cameras.
"I feel working with Doltyn and Troy was really insightful," Beckwith explained. "Because they work in the industry, so they helped us learn what it takes and what you have to do to get the job done. And they coached us really well.
"I learned a lot with the hands-on with the camera," Meinert said.  I did a little of the editing here and there.  And I was staying up late with the team to get this project finished."
"Being young and being able to share a pretty cool skillset with others is exciting," Snedden said.  "I think they got a new appreciation for having a good work ethic and a fresh perspective on film and video production.  They were able to get an out of the box understanding of techniques and thought processes from mapping out the project, through the cinematography and to the editing.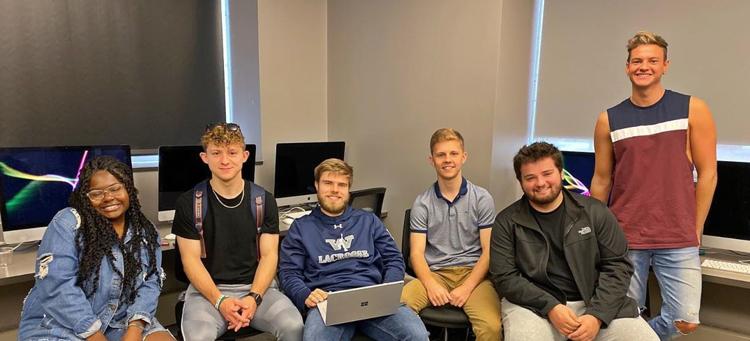 Team Troy (Troy Jackson coached this group of five students) produced a video for Eicher's song "Maybe You Should Know" from his 2019 "The Compass" album. 
"In just two days, they created an awesome video," Jackson said.  "Everyone contributed. And I think they had an exceptional time.  There were two of three of them having fun editing.  I went home at five and they worked through the night being creative and they got the job done.  I'm very proud of them."
"Maybe You Should Know" was produced by Ian Ross, Shaemour Young, Jack Karson, Ricky Stickel, Steven Knight, starring Hamish Mathwin, Hannah Roddy, and Ian Ross.
The teams screened both videos before a campus audience in October.  They were also judged by alumni working in media for this friendly class competition.  They assessed the videos on technical and creative merit and the use of a pumpkin as a required prop.  The judges declared it a tie.  Both videos were then submitted to the 2020 BEA Festival of Media Arts.
---
---
---
---
DEEP ALUMNI CONNECTION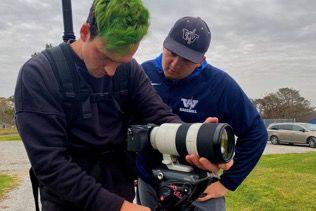 Jackson and Snedden work as cinematographers, directors and producers of music videos in Nashville. Jackson's work includes creating projects for Grammy-winning country musician Gretchen Wilson. Snedden is currently traveling with Lynyrd Skynyrd's world tour producing a documentary on the Rock and Roll Hall of Fame band.
JD Eicher is a touring singer-songwriter from Youngstown, Ohio. He recently created an EP that accompanied the release of the novel "Two by Two" by Nicholas Sparks. Spotify, Apple Music and Amazon Music feature Eicher's songs,
BUILDING ON THE SUCCESS OF PREVIOUS CREATIVE VIDEO PROJECTS
Eicher has a history of working with video students from Westminster. In 2008, he collaborated with then-students Andrea Tice and Joe Ligo for the music video "Easy," which also won a 2012 BEA Festival of Media Arts Award.
"I love this place," Eicher said. "I'll keep coming back as long as they let me come back. This place is a big part of my life. I love Westminster."

Bradley Weaver has been with Westminster's faculty since 2000. He created the TMVC as a prototype project for his class. He borrowed the idea from the 48 Hour Film Project competitions.
"I've used the 48 Hour Film Project in Pittsburgh as a required project in the course for several years," Weaver said. "It's a way to promote creativity and teamwork under pressure. This time I wanted to try something different and focus on music videos instead of short films. I was blown away by the quality of work, technique and imagination. I'm also very grateful to our alumni. They volunteered their time and mentored our students through a rich experience. I'm bursting with pride."
Snedden and Jackson allowed students to use their personal 4K cameras with their supervision and instruction. The School of Communication rented some quality of lenses for the project and other than that the students had almost no budget.  The improvised with props and locations.  Team Doltyn used the College Field Station and Team Troy secured permission from the nearby Apple Castle to use their orchards.
---
---
Snedden and Jackson were part of a BEA award-winning team from a video production class in 2018 for alumnus Katie Joy's song "Machine from the West."