NEW WILMINGTON, PA.-- Lady Pesed, Westminster College's 2,300-year-old resident Egyptian mummy, was removed from her coffin for the first time in more than 100 years this summer, revealing a few new surprises during an in-depth examination, restoration and conservation process.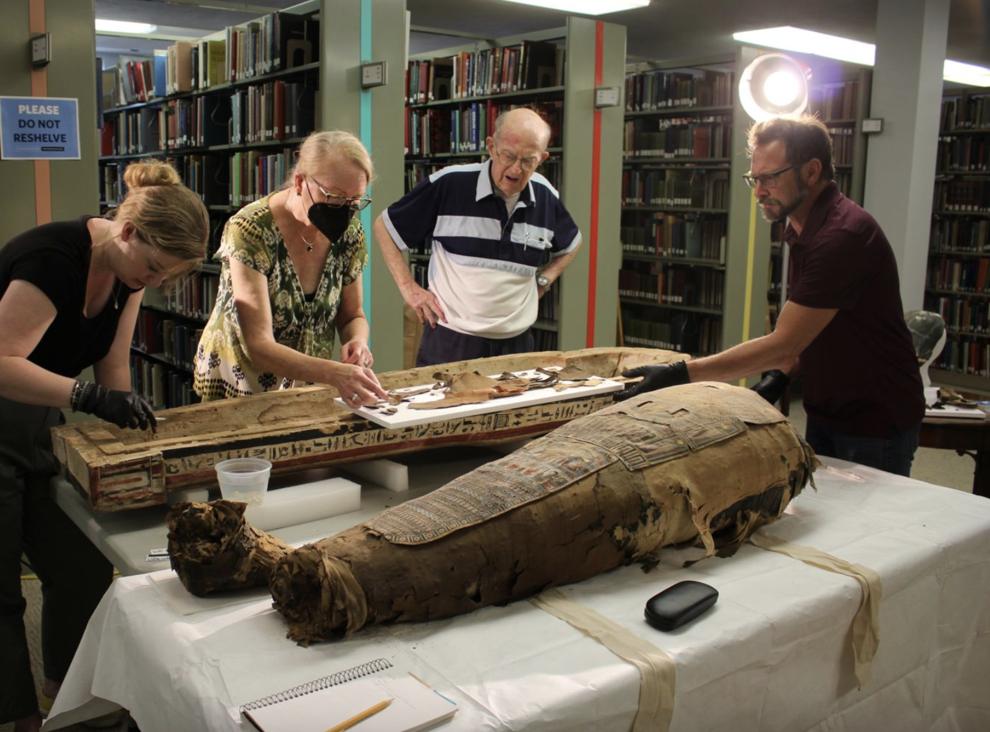 Dr. Samuel Farmerie, curator of cultural artifacts at Westminster College, coordinated the visit of conservators which included Mimi Leveque, director of the ArchaeaTechnica Conservation Services, and Jessica van Dam. Egyptologist and director of the Akhmim Mummy Studies Consortium Dr. Jonathan Elias also joined the team. Elias has worked previously with Farmerie, helping solve many of Pesed's mysteries through radio-carbon dating, X-rays, CT scans, and forensic reconstructive modeling.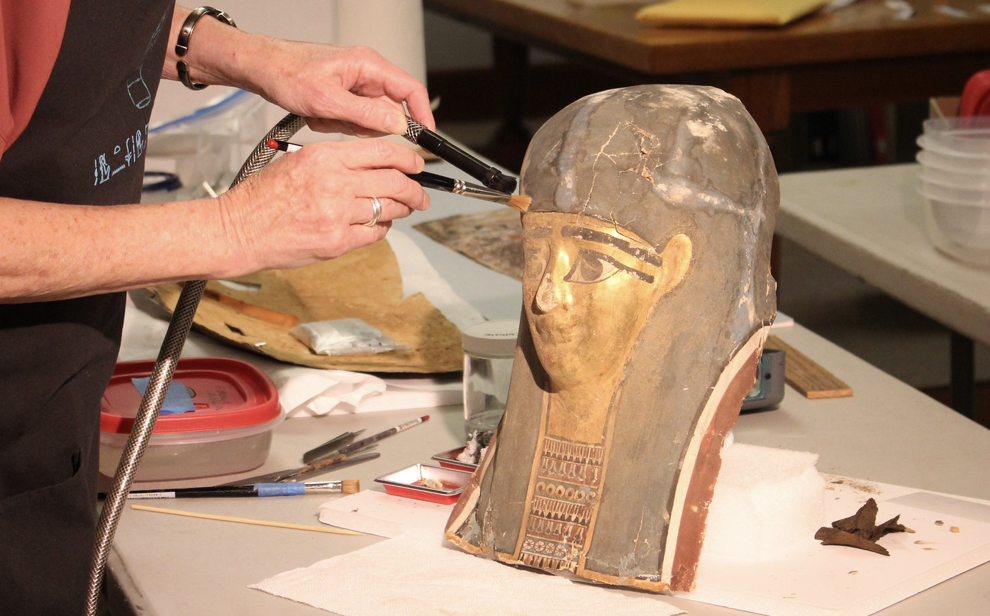 This July, the team spent 10 days examining Pesed, her cartonnage mask and panels, as well as her coffin.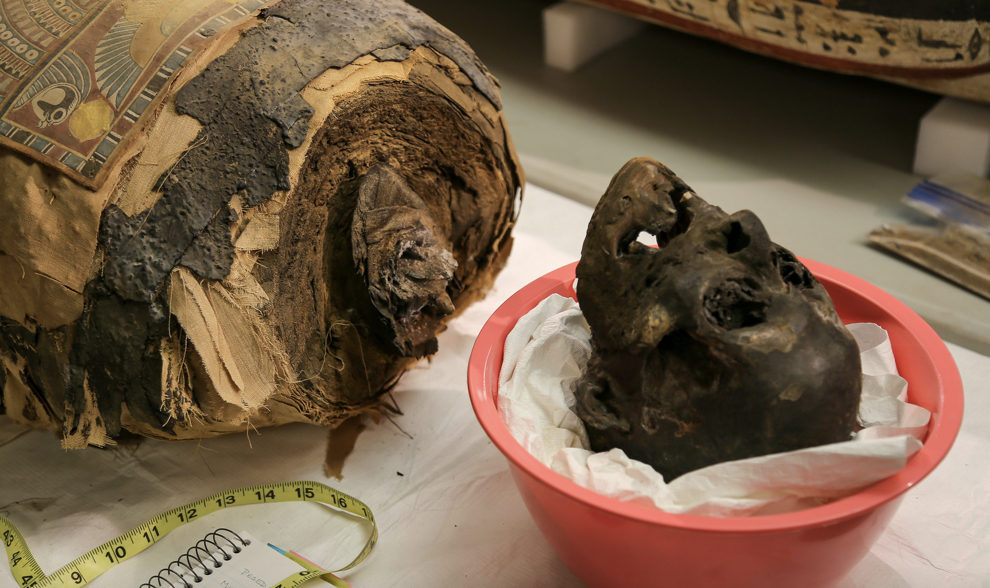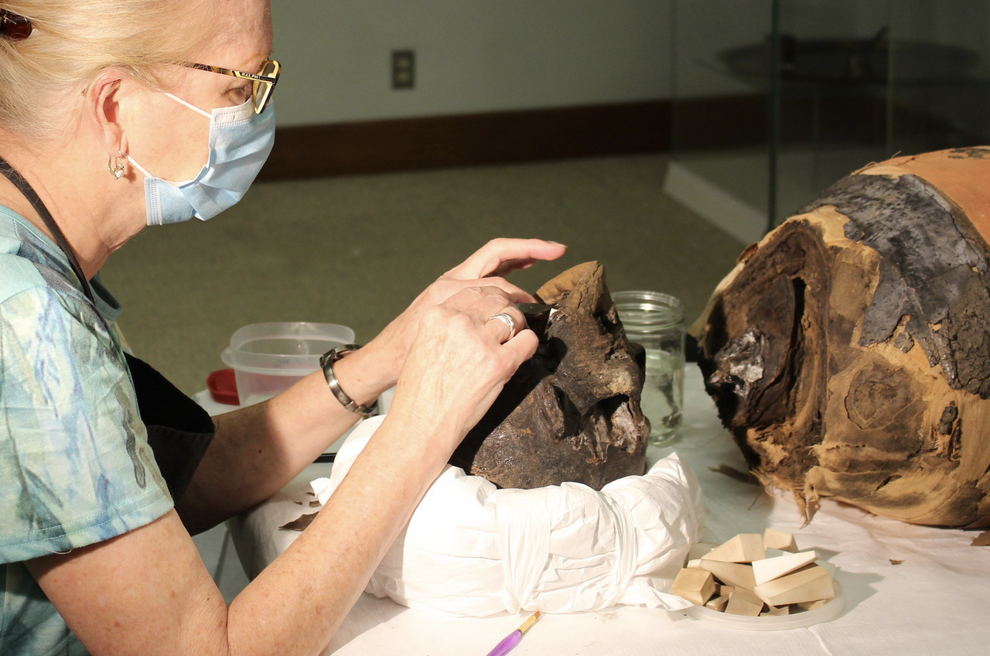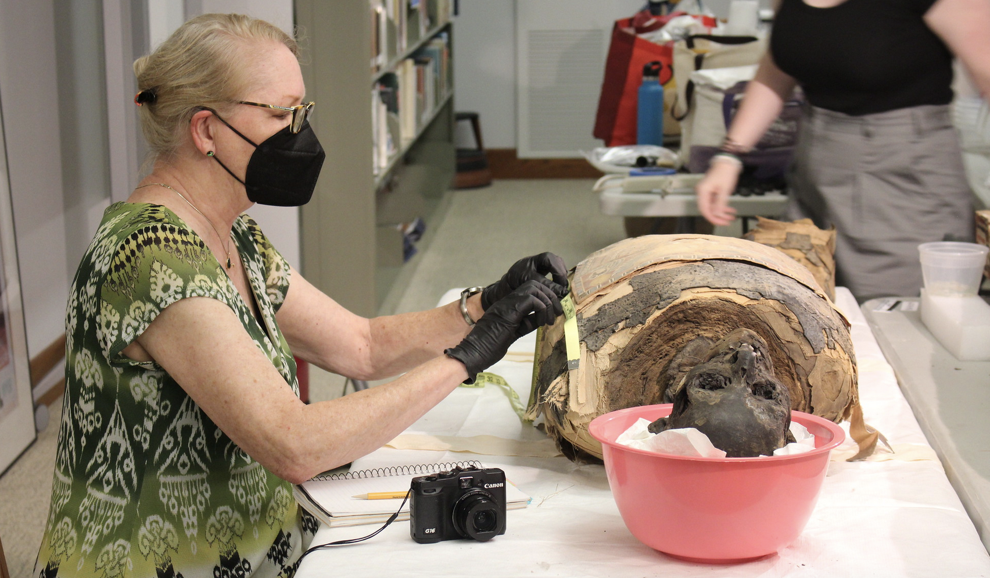 New finds during the team's visit included the discovery of a painting of a weeping goddess on the inner surfaces of the trough, revealed as conservators lifted Pesed from her coffin for preservation purposes. The team was also able to determine that Pesed's linen wrappings, now mostly a weathered brown color after two millennia, were originally a shade of pink.
Restoration and conservation work to the coffin included cleaning the surface, performing structural stabilization, repairing cracks and flaking paint, and addressing color loss. The team also addressed Pesed's mask and panels, making any necessary preservation efforts.  The mummy's exposed linens were gently cleaned, and damaged linens were repaired.

Excavated from the city of Akhmim, about 250 miles south of Cairo, the mummy was donated to Westminster College in 1885 by the Rev. John Giffen, an 1872 Westminster graduate who was working as a missionary in Egypt.
Pesed is believed to be the daughter of Neshor (prophet of the eight gods associated with Min) and Mehyt-ha-wer and was likely a member of the privileged class. CT scans and X-rays done previously place her age between 50-60 at the time of her death, which is believed to have been around 250 B.C.
The mummy was professionally restored in 1983 by Jane Gardner of the Carnegie Museum thanks to the energy and fundraising effort of Susan Grandy Graff '85, who tackled the project during her undergraduate years. In 2006, forensic sculptor Frank Bender constructed a bust of Pesed based on more than 2,500 CT scans.
Pesed currently resides on the second floor of Westminster's McGill Library.