UPDATE (11/16) from BALTIMORE:  The Westminster College volleyball team lost, 3-0, to No. 18-nationally ranked Susquehanna University in the First Round of the NCAA Tournament.
---
NEW WILMINGTON, Pa. – The Westminster College volleyball team defeated the Geneva College Golden Tornadoes at home by a score of 3-1 in the Presidents' Athletic Conference (PAC) Volleyball Championship match on Saturday, Nov. 9.
Titan senior Reilly DeGeorge was named the PAC Championship Tournament's Most Outstanding Player. DeGeorge, sophomore Becky Adelman, and senior Josie Toporcer represented Westminster on the PAC All-Tournament Team.
No. 1 Westminster (26-6) defeated No. 2 Geneva (22-9) by the scores of 25-18, 18-25, 25-19, and 25-20. Westminster, led by 27th-year Head Coach Tammy Swearingen, has now won four PAC Championships (2002, 2007, 2008, and 2019). The Titans in previous years lost back to back PAC Championship games (Thomas More 2017, Bethany 2018).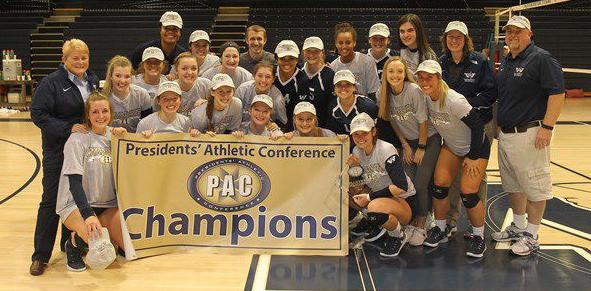 The Titans were paired with Susquehanna University in the opening round of the 2019 NCAA Division III Volleyball Championship during a watch party for the NCAA selection show Nov. 11. This was the first meeting between the two programs.
"I want to have a good time. I want to play some really good teams! I want to dig a crazy good ball from a crazy good hitter, then say 'I'm from Westminster, where are you from?'" said Libero Josie Toporscer on her feelings toward playing in the NCAA tournament. "The mentality is to take what we've done, continue on. Have a good time, make some memories and make coach proud."
This national appearance is Westminster's fourth overall in program history, all under the leadership of Swearingen. The other three national appearances were in 2008 and 2007 (both NCAA Tournament) and 1997 (NAIA Tournament after winning the Keystone-Empire Collegiate Conference (KECC) championship). The Titans were also the 2002 PAC Champions. However, the PAC did not have an NCAA automatic qualifying bid at the time.
The Titans have competed in the Eastern Coast Athletic Conference (ECAC) tournaments in the past two years, and won it in 2017.
"For the ECAC it's very hard to get out of the feeling that we lost, but for the NCAA tournament we won so we just keep that skill going and bring something even more exciting to the next year," said Toporcer.
---