MORRISVILLE, N.Y. – The Westminster College football team won, 35-24, in the Eastern College Athletic Conference (ECAC) Clayton Chapman Bowl over host SUNY Morrisville Saturday afternoon.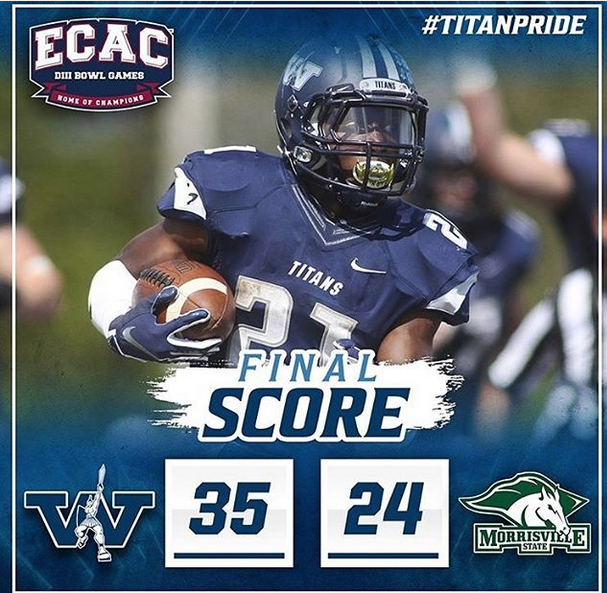 The Titans scored on their first four possessions and led 28-0 at halftime. Titan sophomore Cole Konieczka (Coraopolis, PA / Moon Area) found senior Connor Cox (Ridge, MD / Leonardtown) for a 10-yard touchdown pass on the Titans' opening drive. The Titans followed with back-to-back 99-yard touchdown drives. The first one was capped off with a 2-yard run by senior Tyler Greene (Carlisle, PA / Carlisle), while senior Bryce Hill (Boynton Beach, FL / Boca Raton Community) capped off the second one with a 39-yard rush. Freshman Kevin Brown (Pittsburgh PA / Plum Senior) set up Westminster for its fourth-straight scoring drive with an interception. The Titans only needed one play to find the end zone as senior Keano Grice (Delray Beach, FL / West Boca Raton) ran it in from 49 yards out.
Morrisville opened the second half with 17-straight points, cutting Westminster's lead to 28-17 with 1:22 left in the third quarter. The Titans led by the same at the end of three. Westminster added to its lead (35-17) on its first drive of the fourth quarter when Hill ran it for the second time of the day (this time from 12 yards out). The Mustangs scored late in the fourth quarter, however, the Titans sealed the win after recovering the onside kick.
The Titans totaled a season-high 530 yards (412 in the first half). Hill, who was named the game's MVP, ran for a career-high 150 yards (the first 100-yard game of his career) and tied a career-high with two touchdowns. Cox surpassed (Matt Dvorsak (1995-99)) for second all-time in program history in career receiving yards (2,169) as he grabbed a career-high nine catches for 121 yards (all in the first half). Cox finished the season with 12 receiving touchdowns for sole possession of second-place all-time for receiving touchdowns in a single season (only one shy from tying the record). Cox concluded his career with 17 receiving touchdowns which tied Brett Ziegler (2004-07) for sixth all-time. Konieczka finished 19-of 28 for 238 yards and a touchdown and an interception.
Senior Darius Doty (Greensburg, PA / Greensburg-Salem) led the Titan defense with eight tackles, including 4.5 tackles for a loss and 1.5 sacks. Senior Joey Lane (Frederick, MD / Oakdale) and sophomore Branden Millward (Cranberry Twp, PA / Seneca Valley) each had a sack, while junior Frank Antuono (New Castle, PA / Neshannock) had a half sack. Senior Paul Gonzalez (Miami, FL / Florida Christian) forced and recovered a fumble. Freshman Luca Botti (Ellwood City, PA / Ellwood City), senior Aaron Pierce (Fort Lauderdale, FL / Hollywood) and sophomore Joseph Meinert II (Harmony, PA / North Catholic) each had six tackles.
Westminster, making its fourth trip to an ECAC Bowl game in five years, has now won three bowl games. The Titans concluded the 2019 season 8-3 overall and 6-3 in the Presidents' Athletic Conference (PAC). Westminster's 37.45 points per game set a new school record for most points in a game for an 11-game schedule.