The Westminster Titan Basketball team is in the tail end of their successful 2019-2020 campaign with the Titans seeking a top-four seed and another shot at the Presidents Athletic Conference title this year. This season, the team has been going with the "Unfinished Business" slogan to drive them after last season's nail biter loss 64-61 when they hosted Chatham for the PAC Championship game.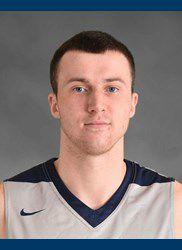 However, family plays a role for the Titan's this season as we were introduced to both the Ritter twins last season when Dan transferred to Westminster College from Youngstown State University to play alongside his brother again. Now this year we are seeing two of the O'Hara brothers sharing the floor at the same time for the first time since their high school days.
"Playing with Dylan was one of the main reasons I decided to come here. Growing up we kind of went against each other being four years apart so we weren't always on the same team," said First-year Guard Austin O'Hara on getting a chance to play alongside his brother again.
"When I got another opportunity to play with him, just seeing all the work, he puts in and having him to mentor me, I couldn't pass up that opportunity."
"For me, since we never really played together, this being my last year and getting to share the court with him is pretty special," said Dylan O'Hara on getting the opportunity to play alongside his brother in his senior season.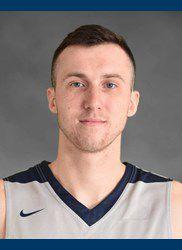 "It's really cool, we always had played together but Dan decided to walk-on and play at YSU our freshman season and spent a year apart. Then decided it was probably better playing here so we reunited for our sophomore season," said Junior Guard Anthony Ritter on playing with his brother.
"For us, because we're twins, it wasn't hard to get reconnected because we've played together our whole lives. One year off wasn't that bad, but playing with him has always been the best since we were little," said Daniel Ritter on what it means to play alongside his brother at Westminster.
Dylan O'Hara is serving as one of the Titans team captains this season as well as being the top scorer in the Presidents Athletic Conference.
"It's kind of a once in a lifetime thing where I get to play with my big brother and him being the team captain. The way he fills in that role, I couldn't pick anyone better. He is a great leader, leads by example and does what he needs to do, showing everyone what they need to do," added Austin O'Hara on his brother being a team captain. "I've always kind of had that being the little brother, but seeing it firsthand here is just something special."
"Playing together helps our team chemistry because I know him, I know exactly where he wants the ball for a shot, we all play together all summer, so I know our strengths were to give the ball coming off a screen, we have a lot of team chemistry especially from the summer working together," said Daniel Ritter on how playing alongside family helps team chemistry.
"We always said we would play 2-on-2 vs the O'Hara's. I don't know if we ever did, but growing up, Dan and I would play 1-on-1 games as a rivalry and we would get into fights and that sometimes ended up badly. We made it through though," said Daniel Ritter on his sibling rivalry.
"I'd say for Dylan and I there is definitely a rivalry, but being four years apart, so I had to understand he is always going to be a little bigger and stronger. At the same time, it was like I wasn't going to stand down because he was a little bigger and stronger and that brought the competition out of me a little bit and that I can't thank him enough for."
The Titans will wrap up their regular-season schedule at home against Grove City with the conference tournament the following week the format goes as follows.
Tuesday, Thursday, Saturday, February 25, 27, 29
Tuesday (quarterfinals): No. 8 at No. 1, No. 7 at No. 2, No. 6 at No. 3, No. 5 at No. 4
Thursday (semifinals): Lowest remaining seed at the highest remaining seed, lower of remaining middle seeds at higher of remaining middle seeds.
Saturday (championship): Lowest remaining seed at the highest remaining seed.
Copyedited by: Sydney Roach