NEW WILMINGTON, Pa. (WC)-- Meet Travis Brown, Head Men's Lacrosse Coach! He came to Westminster College from San Diego, California and enjoys being outside at the beach and is an avid surfer. What's his advice for getting up in the morning and starting off a great day?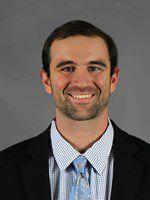 "At the start of your day, it's important to move your body for 30 minutes. Whether it's walking, running, lifting - or anything that increases your heart rate - it helps get you in the mindset to attack the rest of the day. Also, carving out time slots for personal thought and activities throughout your day is important - like researching personal topics or taking time to care for yourself."
Coach Brown enters his third season as the head coach of the Westminster men's lacrosse team in 2021. Brown was the assistant coach for the Titans in 2018. Prior to Westminster, Brown served as a graduate assistant at Heidelberg University.
In Brown's first year at the helm in 2019, the Titans had the most successful season in the history of the program, finishing with an overall record of 10-8 and 5-2 in the PAC. The Titans 10 wins are the program's most in a single season. Westminster also made it to the inaugural PAC Championship game, and qualified for its first ECAC Championship. Under the tutelage of Brown, a school-record 10 Titans received All-PAC honors, with goalkeeper Carter Hall being named PAC Defensive Player of the Year.
Brown was a volunteer coach and defensive coordinator for his alma mater, Aurora University, in the spring of 2015. Brown also served as the head lacrosse coach for the U13 Boys Select Team in St. Charles, Illinois in the fall of 2015. Among this, Brown was a strength and conditioning intern at Aurora University for the men's and women's soccer teams, as well as a strength and conditioning intern for Fox Valley Ice Arena in Geneva, Illinois for the USHL Juniors Hockey Team.
Brown is a graduate of Aurora University where he was a four-time varsity letterman for the men's lacrosse team. Brown was voted team captain his senior season and went on to win Defensive MVP for the Spartans the same year. He helped guide Aurora to three NCAA Tournament's, making the "sweet 16" all three years. He was named on the All Midwest Lacrosse Conference team his junior and senior season.
Brown is originally from San Diego, California where he graduated from Rancho Bernardo High School. Brown currently resides in New Wilmington, Pa.