NEW WILMINGTON, Pa. – The Westminster College men's basketball team, under eighth-year head coach Kevin Siroki, returns 13 players from a team that made it all the way to the Presidents' Athletic Conference (PAC) championship game last season.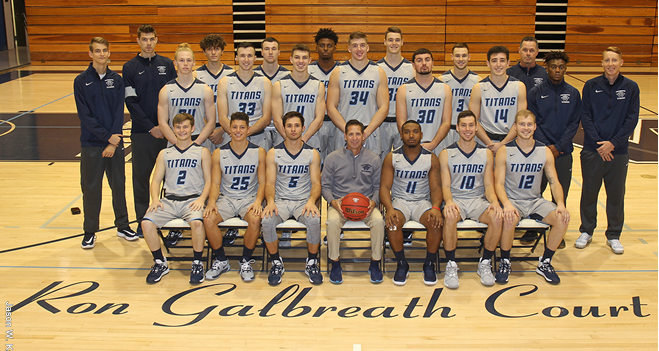 "We have a more experienced team, so we're able to step it up a little bit more with a more experienced group. We're happy with where we're at, we're going to try to push the ball a little bit more this year because of the guys who we have. Every game is going to be competitive, especially in the PAC." Siroki said.
Headlining the returning seniors are Dylan O'Hara (Girard, OH / Girard), Lloyd Chatman (Columbus, OH / Reynoldsburg) and Blake Payne (Ashtabula, OH / Jefferson Area). O'Hara averaged in double-figures for last season for Westminster (10.0), was second on the team with 42 assists, and third in steals (29). Chatman tallied 8.8 points per game (ppg) (including 29 made threes, which were second-best on the team) and was second on the team with 30 steals. Payne was first on the team in blocks with 22 and second on the team in rebounds (5.9), to go along with 7.0 ppg. O'Hara and Payne were named to this year's PAC Players to Watch List. Rounding out the seniors are Ricky Roth (Ellwood City, PA / Lincoln), who was third on the team in assists and Preston Stitt (Boardman, OH / South Range).
"Coming back this year we have Blake Payne and Dylan O'Hara as the captains, Lloyd Chatman will be coming back from an injury. Also, Preston Stitt and Ricky Roth are really going to help us at the point guard position." Siroki said.
Headlining the returning non-seniors is junior Isaac Stamatiades (Elkridge, MD / Avalon). Stamatiades earned All-PAC Honorable Mention recognition and is the only returning player from last year's team to receive all-conference honors. In 2018-19, Stamatiades led the Titans in rebounds per game with 6.4, including 2.5 offensive rebounds, good for seventh and fourth in the PAC, respectively. He also led the Titans in steals with 33 and tied for second with 18 blocks.
"I think one guy who is really going to step up for us this year is Isaac Stamatiades." Siroki said. "He has potential to be maybe one of the best players in the PAC."
Other returning players include juniors Daniel Ritter (North Lima, OH / South Range), Anthony Ritter (North Lima, OH / South Range), Kai Skinner (Titusville, PA / Titusville), Clay O'Dell (Vienna, OH / Kennedy Catholic) and Josh Hutcherson (Uniontown, OH / Uniontown Lake), and sophomores Dakota Hill (Hanover, OH / United) and Aaron Iler (Leavittsburg, OH / LaBrae).
Westminster was picked second out of nine in this year's PAC Preseason Coaches' Poll with 64 points, just one point behind Saint Vincent who garnered the topped spot in the Coaches' Poll. The Titans also received four first-place votes.
"We've been waiting for this since last year from a little bit of a disappointment at the end, but also exciting to end the year getting to the PAC championship game, so the guys are really excited. We can see the guys hard work they put in over the summer." Siroki said.
Westminster opens the season at Defiance College on Saturday, November 9 at 5 p.m. The Titans' first home game takes place against Bluffton University in the Buzz Ridl Classic on Friday, November 15 at 8 p.m.
*Quotes provided by WCN Coaches' Corner