NEW WILMINGTON, Pa.--  "Dribbling is Reese Leone with 9, he's just going to dribble it out. The Titans begin to celebrate! Westminster wins the PAC Men's Basketball Championship!"
That was the call by the PAC Sports Network as the Titans began celebrating their title win last winter at the Buzz Ridl Gymnasium.
For the first time since 2004, the Westminster Titans were PAC Champions after defeating the Grove City Wolverines 73-62. The Titans ended the 2020-21 season 11-1, with the only loss being to Washington & Jefferson on a last second shot. What a season for the Titans and one that will definitely be remembered. 
After the celebration was over. The question became what was next to come? When the season ends, it's a weird feeling. Yes, you still are the champions but after that championship day, every other team is just focused on next season. So the question becomes what's next for the Titans? 
That question would be answered by talking about the six seniors that were on the team and who would be graduating. The great thing about this past season is it was considered a "COVID year" meaning that since the season was shortened by so many games, the NCAA granted another full year of eligibility to all athletes affected by the shortened season. This meant that seniors could come back for their fifth-year if they chose to. 
The Titans would learn that out of those six talented seniors, four of them would be returning for their fifth-year. The Titans would lose a great player in Isaac Stamatiades and also valuable leader Kai Skinner. However, the players rejoining the Titans would be: Dan and Anthony Ritter, Josh Hutcherson, and Malique Burton. With tons of experience, the Titans look to make another statement going for back to back titles.  
The returning guys had lots to say about the opportunity of being able to get back out there again.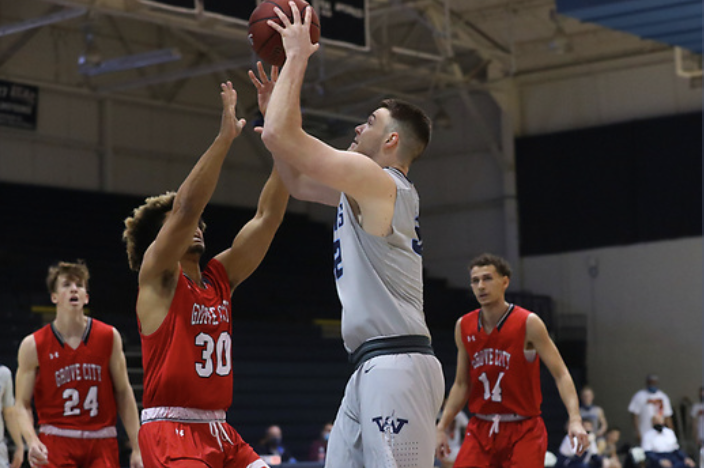 Josh Hutcherson (Uniontown, OH / Uniontown Lake HS), a now fifth-year senior, talked about what it means to him to come back for another year of basketball.
"I realized winning the PAC last year was something that our basketball team hasn't done for a long time. However, I want to be able to do it again" Hutcherson went on to add. "Going out with back to back titles is better than just one!"

Hutcherson contributed well to the team last season averaging 9.9 points and had a .541 FG%. The 6'6 forward will look to lead his team on another run to a PAC title this season. 
The next man up returning for the Titans is fifth-year guard Anthony Ritter (North Lima, OH / South Range). Ritter talked about what the goal is for this season and the team.
"The goal for this season is to win the PAC again and make it to the NCAA Tournament" said Ritter. "It's time to put Westminster on the map."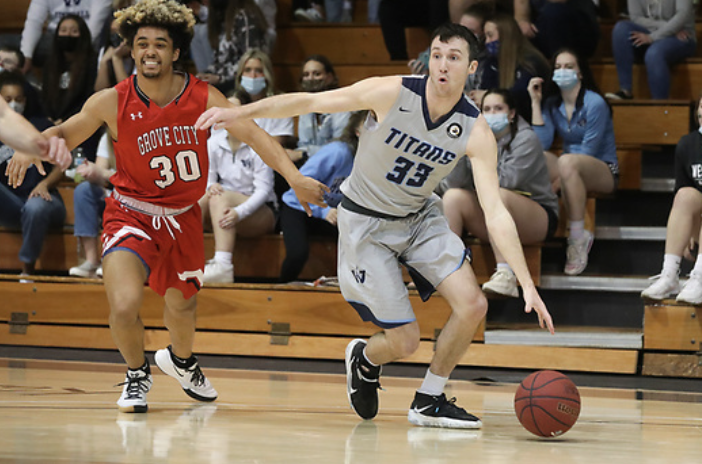 Anthony Ritter can really put on a shooting clinic. He shot 50% from beyond the arc last season. Ritter is also a sneaky player averaging about 0.5 steals a game. However, with the shortened season last year and the guard depth the Titans had it was hard to really get going with a consistent lineup. However, Ritter looks poised this season as he will continue to shoot the three and help the Titans back to another championship.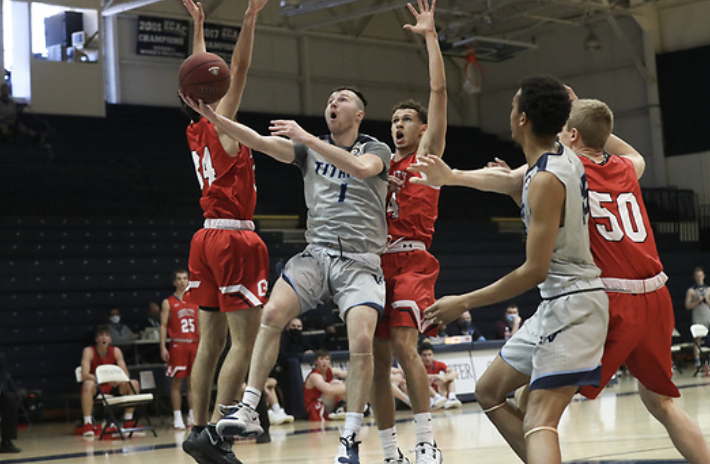 The next returner is senior captain Daniel Ritter (North Lima, OH / South Range), twin brother of Anthony Ritter. He spoke very highly of his younger teammates.
"I want to hold my teammates accountable but also push them at the same time. I expect a lot from guys like Jordan Zupko, Reese Leone, and Drew Clark" said Ritter. "I also want to see some of the other younger guys step up and be ready to play when their name is called. We all can play if we work as a team. I know everyone on this team can play well." 
Daniel Ritter had an impressive season last year as the second highest scorer on the Titans averaging 14.8 points. The senior guard also shot 49.2% from the field which was 6th highest on the team.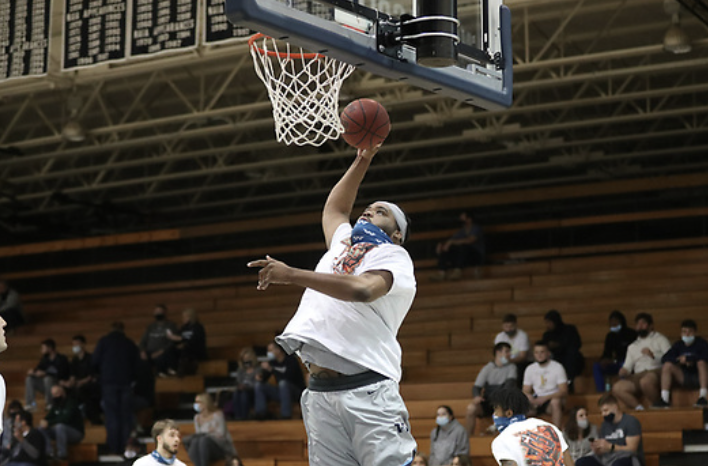 The last senior returning for the Titans is the big man on the team. Center Malique Burton (Cleveland, OH / Holy Name) who stands at 6'10 will be returning to the team and is looking to prove to everyone who the dominant force is in the PAC. Unfortunately for Burton, he has battled injury after injury through all of his four seasons at Westminster. However, Burton looks to turn the page and come back with a vengeance. Burton talked about how he wants to be remembered at Westminster.
Burton said, "I want to be remembered as someone who never gave up when faced with adversity."

Senior forward Tyler James (Youngstown, OH / Warren JFK) talked about the chemistry of the returners add to the team.
"These guys bring experience and heart to the team. They push us too which I think will really motivate and bring our team together." James has a bright future with the team as well as he was a huge part of the PAC title run last season averaging 12 points and 7.7 rebounds per game.  
Sophomore guards Drew Clark (Springfield, OH / Springfield) and Reese Leone (Alliance, OH / West Branch HS) both talked about their experiences last year with the seniors and now what they expect to see from them this season as well.
Clark said, "I was very happy to hear that these four guys were coming back. They are truly the leaders of this team" said Clark. "These guys can bring a lot of experience to our team." 
Leone also offered some kind words about his teammates.
"The more guys we have tasted what it's like to be on top and know what it takes to get there, the better" said Leone. "Our chemistry will pick up right where we left it last year. We're all friends off the court too, which makes everything so much better." 
The coaching staff of Westminster also shared some of their thoughts on the return of these four players.  
Head Coach Kevin Siroki talked about his reaction to these four seniors deciding to come back for another year.
"I was more excited to see these guys come to campus this fall than shocked" said Siroki. "Kai was a great leader for us last year, being able to help the younger guys out, and losing Isaac is huge because he could do everything. However, we have a lot of experienced guys coming back so we should be just fine." 
Former Titan star and now the Graduate Assistant for the Titans, Dylan O'Hara talked about what it is like to see some of the guys he played with and now be able to coach them.
"I kind of have a different perspective of the game now than when playing" said O'Hara. He also mentioned wanting to help the team out anyway he could. "I'm confident that they will respect me and listen to what I have to say because at the end of the day, I have their best interest in wanting nothing but success for them."
To add to it as well, Assistant Coach Brian Danilov offered some encouraging words about what he expects from the returning Titans.
"The returners are our leaders this year" said Danilov. "Leaders become great not because of their power, but because of their ability to empower others."
The Titans have every right to feel confident with the list of players that will be returning for the new season. However, it's tougher to stay at the top than it is to get there as some people say. The Westminster Men's Team will look to go back to back with the help of the four fifth-year returners in Josh, Anthony, Dan, and Malique. 
The Titans travels to Thiel College for the first PAC match-up on Dec. 4.   The team goes with five non-conference games before Thiel, starting with the Buzz Ridl Tournament Nov. 12-13.