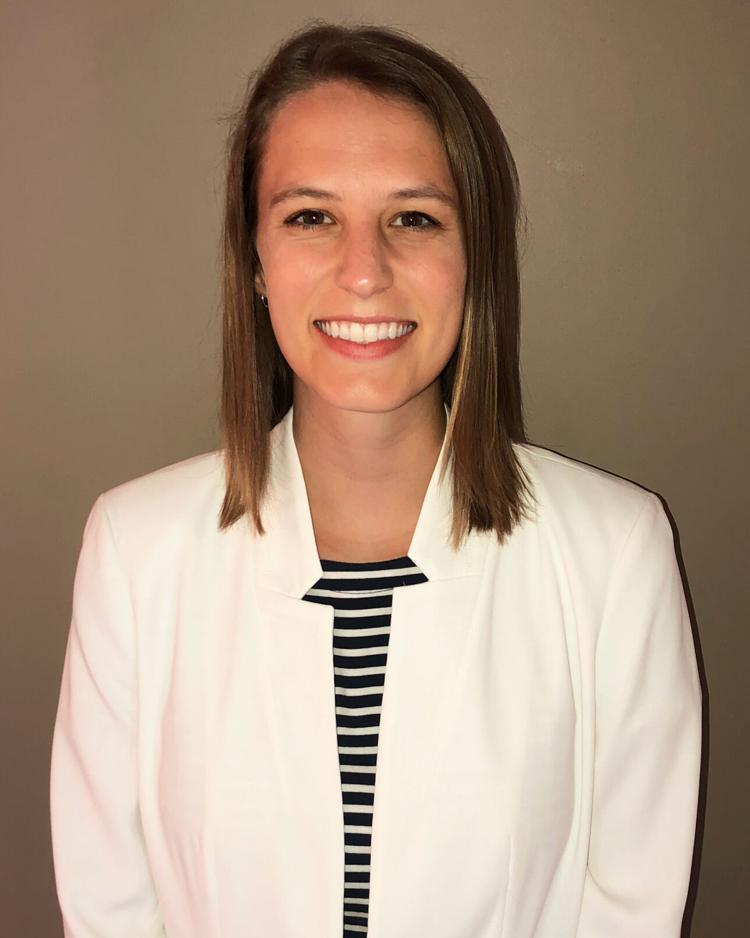 NEW WILMINGTON, Pa. (pacathletics.org)--Tayler Kirtley was recently named the Assistant Commissioner for Championships and Special Events by the Presidents' Athletic Conference (PAC).  
The 20-month internship will run throughout the 2020-21 and 2021-22 academic years and is being funded through the NCAA Division III Minorities and Women's Internship Grant Program.
"In an absolutely outstanding field of talented applicants, Tayler's background and experience definitely stood out to us. In particular, her administrative background working to help organize major basketball and golf tournament events, in addition to her (NCAA) Division III championship background, make her uniquely suited for this position. We are very excited to have Tayler join the PAC staff," said PAC Commissioner Joe Onderko.
Kirtley will begin her time with the league office on August 1.
As the PAC's new assistant commissioner, Kirtley will be actively involved in all aspects of the league's operation and administration, including championships, compliance and governance, awards, scheduling and grant administration. She will also work closely with the PAC's Student-Athlete Advisory Committee (SAAC) and assist with additional conference-wide programming. Kirtley will play an instrumental role in the administration of the 2020-21 Division III Men's Golf Championships at Oglebay Resort in Wheeling, W.Va. and the 2021-22 Division III Women's Basketball Championship at Duquesne University in Pittsburgh.    
"I am very excited to receive the NCAA Division III Ethnic Minorities and Women's Internship Grant and join Joe (Onderko) and Kevin (Fenstermacher) at the PAC. This grant has given me an opportunity that I would not have had otherwise, and I am incredibly grateful for the people I will meet and the experiences I will have," said Kirtley. "I look forward to the transition to Division III where I can immerse myself in the culture and conference pride. The PAC truly values student-athlete success on and off the field, which is exactly what I am looking for."
A four-year member of the swimming and diving program at the University of South Dakota, Kirtley was named to the Summit League's Honor Roll four times and was a three-time Commissioner's List of Academic Excellence honoree. She posted six top-12 finishes at the league championships and ranks on the school's top 10 list in both the 100 and 200 backstroke.
Kirtley, a native of Overland Park, Kan. and 2013 graduate of Blue Valley Northwest High School, earned a bachelor's degree in psychology, along with a minor in business administration, from South Dakota in 2017 before earning a master's degree in sport management from South Dakota in 2018.
Kirtley has served as a digital specialist for the Omaha World-Herald in Omaha, Neb. since October 2019, where she had been primarily responsible for the coordinating, scheduling and monitoring of digital advertising campaigns. Prior to her work as a digital specialist, Kirtley spent time as an events coordinator with the World-Herald, creating, designing and scheduling advertisements, promotions and presentations for social media usage.
During the summer of 2018, Kirtley served as a marketing intern for the Pinnacle Bank Championship, a golf tournament on the Korn Ferry Tour and played at The Club at Indian Creek in Omaha. She handled a variety of administrative duties throughout the four-day event, such as organizing contract logistics for 100 sponsors' tickets and packet pick up, serving as a liaison between sponsors and the Pinnacle Bank Championship mobile application and assisting with the pre-tournament organization of event volunteers.
Kirtley has extensive volunteer experience, having worked as an event manager for a number of Summit League championship events hosted by South Dakota in Vermillion. She assisted meet directors with logistics, operations and volunteer management at both the cross country (2017) and swimming and diving (2018-19, 2019-20) championships. She also assisted at the Summit League's men's and women's basketball championships in 2016-17 and 2019-20, helping support its annual Fan Fest in Sioux Falls, S.D.    
Kirtley also worked with the Minnesota Intercollegiate Athletic Conference (MIAC) at its swimming and diving championships in Minneapolis last winter.
"This marks the fourth time the PAC has been fortunate enough to hire someone through the NCAA Division III Ethnic Minorities and Women's Internship Grant Program. We are very proud to be able to provide professional access and experience for outstanding candidates through this worthwhile program," said Onderko.