The "Titan Tradition" is a theme mentioned often in the realm of the Westminster College Athletics department. A theme of excellence, a theme of work ethic, a theme of devoted alumni and a theme of family. These are pillars for which Westminster Athletics has prided itself on ever since its inception and one of the bigger and more recent contributors to the Titan Tradition has been the prestigious pole vault program.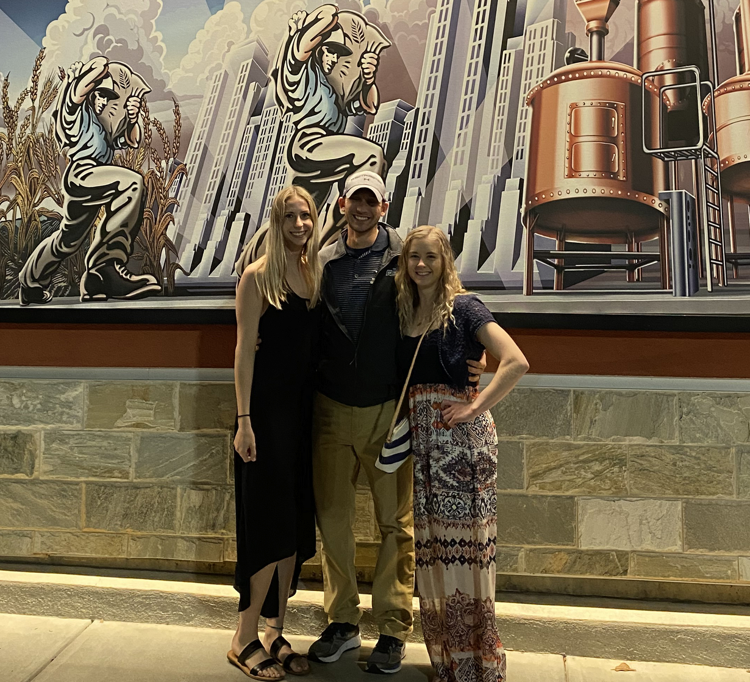 The track and field team is led by 15th-year head coach Tim McNeil '96, while 13th-year assistant coach Bradi Rhoades coaches the pole vaulters. The Westminster pole vault  2020 Indoor NCAA Nationals program has seen 34 Presidents' Athletic Conference (PAC) Champions, 26 NCAA Division III National Qualifiers, 16 All-Americans and a National Champion (one of only five individual National Champions in any sport all-time in school history!). With all the accolades, all the awards and all the success, two Titan pole vaulters have grabbed the reigns as leaders and are looking to continue the "Titan Tradition".
Enter junior Morgan Gossard and sophomore Emma Rudolph, Westminster's two most current accomplished vaulters who have each lived complex, yet rewarding journeys to how they came to Westminster.
"I really had no idea where I wanted to go to college," Gossard said in reflection. "I had a life-changing experience the summer of 2017, when I first came to Westminster for the annual summer pole vault camp in July. I had the time of my life in those three short days, learning more than I thought possible and taking in every ounce of information that I could. I had some amazing coaches at the camp who had taught me so much, and Coach Rhoades had so much energy and an upbeat attitude that I later found out would be hard for any other coach at any other school to match."
Gossard's talent as a vaulter was clear, as she won every single pole vault event in her senior year of high school, which led to her receiving several athletic scholarship opportunities, including a full scholarship to a Division I institution. However, Gossard knew that Westminster was the place she was destined to be.
"I knew in my heart that I wanted to keep being successful in the sport, and already knowing that there was a coach out there that was able to help me reach my goals was all the information that I needed to choose Westminster as my home away from home for the next few years," said Gossard.
While Gossard hails from Johnstown in Pennsylvania, about 100 miles south of New Wilmington, Rudolph's journey started far west in the country, in the bright, sunny skies of Santa Clarita, California.
"I was hesitant about moving my life from California to Pennsylvania as well as continuing to compete," said Rudolph. "I stayed in California my first semester of college, however, I questioned if I had made the right decision. After careful thought, I called Coach Rhoades and asked him if he had any open spots on the team for the fall 2020 semester. He was very excited I called but actually urged me to fly out in January of 2020 and compete for the spring semester. Less than a month later, I flew out to PA to start my new journey at Westminster. Westminster has been everything I wanted and more, it exceeded all of my expectations and has been so amazing. Westminster was the right fit for me and one of the best decisions I have ever made."
Despite limited time in collegiate competition, especially due to the impact COVID-19 has had on their careers with canceling events, both vaulters have achieved the success early on that they envisioned when they began their careers as Titans. Gossard is a three-time NCAA National Qualifier and holds two PAC Championship titles, while Rudolph won the PAC Indoor title in the pole vault and was a National Qualifier in just her first season. At the conclusion of the 2020 Indoor season, both vaulters were getting ready to compete at the NCAA Division III Track & Field Championships on site in Winston-Salem, North Carolina, looking to become All-Americans for the very first time. However, the NCAA canceled all remaining winter and spring NCAA Championships due to COVID-19 the day before they would take the National stage.
The NCAA made the decision that all individual student-athletes who declared and initially accepted into their event at Nationals earned All-America honors, giving both Gossard and Rudolph the first All-American recognition of their careers. With their respective seasons upcoming, both vaulters understand the significance of this accomplishment and what it means to contribute to Westminster's tradition.
"Being able to contribute to the legacy of the Westminster pole vault team has been a great honor for me." Gossard said with gratitude. "Personally, I had a lot of expectations coming into college that I hoped to fulfill, but with so much uncertainty for the future due to the pandemic, I see my time on the Westminster track & field team quickly diminishing. I will be graduating in May, and at this point my only real expectation is to be able to compete at least one more time at the collegiate level. Everything happens for a reason though, so for now, I am just waiting to see where this crazy journey takes me."
"Without Coach Rhoades, my teammates, and my family's support, I would not be the athlete I am today, and would not have improved this much," said Rudolph. "Last season's (Indoor) performance was the best I ever had, but it has only pushed me to work harder and keep improving for the seasons to come and to leave my mark at Westminster. I want to take each victory as they come, and use them as my drive to improve with each practice and meet."
"Collectively, through their hard work and determination, Morgan and Emma have been able to keep the Westminster pole vault program competitive nationally," said Coach Rhoades. "As far as expectations go, it is pretty simple; stay focused, work hard, be patient, and enjoy the journey. At the end of their careers, we hope that they get to experience standing on the awards stand at Nationals receiving an All-American honor!"
With both athletes battling similar elements that every vaulter all over the country is enduring due to the societal impacts of COVID-19, both vaulters know their time at the collegiate level is limited and know what impact they want to leave on this historic program.
"The final mark that I want to leave on the pole vault program and track and field as a whole by the end of my career is one of hard work and dedication to my event," said Rudolph. "I would like people to remember me as someone who always gave it my all and put everything I had into pole vaulting."
"In a perfect world, the mark I would hope to leave behind as a Westminster athlete would be winning a second National championship for the Titan pole vault program," said Gossard. "This has been my goal since day one, and having opportunities for a Nationals experience be cut in half by the pandemic was a hard pill to swallow. Only having one more semester left with the uncertainty of if there will even be a track season or not keeps me both motivated and uncertain about what the future holds for me."
While both vaulters have battled uncertainty and unprecedented events in a time where their careers as pole vaulters is reaching a climax, both have been an example of what being a Titan student-athlete embodies. Regardless of if either gets another chance to add to their All-American resumes and compete/qualify for the NCAA Championships this Spring, they have already stamped their mark on the prestigious Westminster pole vault program. However, if they do get a chance, rest assured, both will be ready.