NEW WILMINGTON, Pa.—Practice for the Titan swimming and diving teams kicked off on Sept. 2 and head swim coach Pat Smith said it's the earliest the Titans have hit the water in the pre-season.  The coaches and players follow the COVID-19 protocols for health and safety, taking all rules seriously.  Swimmers tell us their excited to be back and want to make sure they stay healthy and hope to prepare and compete. 
"I'm so grateful just to be on campus in general," said women's team captain Nyna Hess ('21 English major). "The fact that we still get to be practicing right now is just really exciting. And I feel really lucky to have that opportunity."

"I'm super excited to be back and it also feels good to take steps to get back in swim shape and see everybody in the water and really compete against all my friends," said men's swim captain Blaine Sorrick ('21 Environmental Science). "If everyone (on the team) follows the precautions, they can act as leaders not only for the team but for the campus."
"We're fortunate that USA Swimming has a pretty strict protocol that we've been able to follow even about spacing and the lanes and the pool as well as Westminster's policy they already have in place," explained head swimming coach Pat Smith.
The coach stresses that the teams are not taking any risks.
"I would never ask our athletes to do something I'm not comfortable doing myself," Smith said. "I think we are doing everything we need to be doing. And even then, some to make sure it's safe for everybody.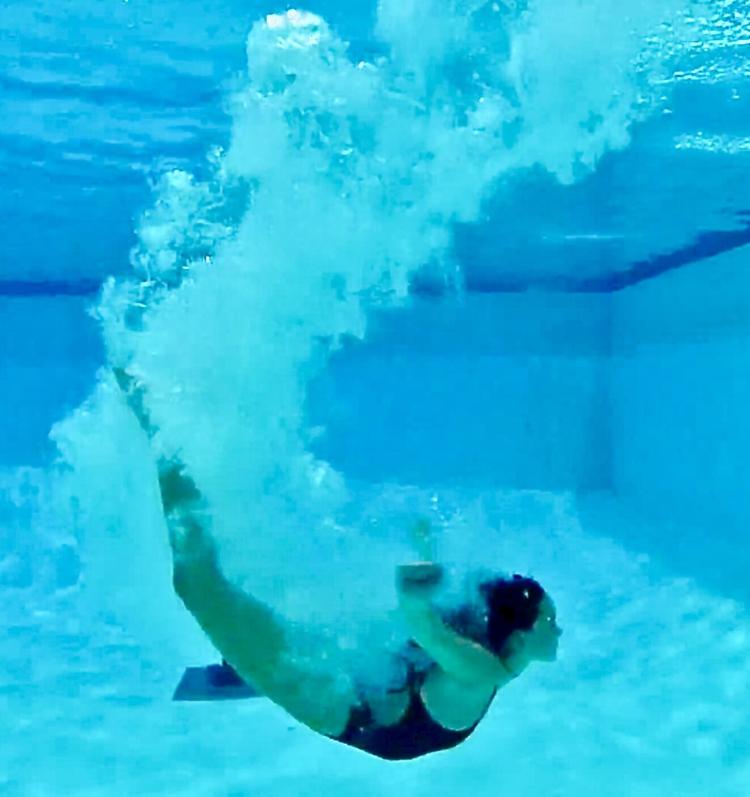 Hess agrees with Coach Smith and believes they're taking the correct precautions needed to keep everyone healthy.  She trusts the plans made by the trainers, coaches and leaders in the athletic department.
 But when it comes to what the coronavirus might do to the upcoming swim season or the academic semester, she wishes they could predict what's to come, but she's ready to adjust.
"I think the only thing I know for sure is that no matter what happens, we will make the best of it. I have a lot of faith in my coaches and my teammates, all we're going to stay positive.  Whether we have a season or not, I think that you know, we'll still have fun and we'll still do whatever we can."
Hess, Sorrick and Coach Smith agree getting back together as Titans in the pool is important for morale and allows them to get back to a sense of community that comes with being part of a team.  The social time at practice will nurture their state of mind while it improves their physical health.
"We're really just going to be able to take this time to slow down, think about why we want to swim and hopefully like fix the little things that are wrong with our strokes," Coach Smith said. "If that's all we have to do this year, we make do with what we have, and that's what we're going to do. And I'm just excited about that."