NEW WILMINGTON, Pa.-- Here's what the updated spring Titan football schedule for the Presidents' Athletic Conference (PAC) looks like! There are five games mapped out each participating PAC for this abbreviated spring schedule.  Of course, the schedule is subject to change.
Friday, March 19, Westminster hosts Bethany.

Friday, March 26, Westminster travels to Geneva College.

Friday, April 9, Westminster hosts Grove City College.

Friday, April 16, Westminster College hosts Carnegie Mellon University.
Westminster College will participate in the PAC North Division-South Division Crossover Schedule (Friday & Saturday, April 23-24).  In those games, the schedule will be based on where the teams rank in their divisions:  No. 4 North vs. No. 4 South; No. 3 North vs. No. 3 South; No. 2 North vs. No. 2 South; No. 1 North vs. No. 1 South.
Westminster, led by seventh-year Head Coach Scott Benzel, will open its highly anticipated 2020-21 season on Friday, March 19 at home against Bethany at 7 p.m. The Titans will then play at longtime rival Geneva the following Fri., March 26 (7 p.m.). Following their bye week, the Titans will travel to Grove City on Fri., April 9 (7 p.m.). Westminster will then close out the regular season at home against Carnegie Mellon on Friday, April 16 at 7 p.m. The league's "crossover game" will commence Fri., April 23 or Sat., April 24.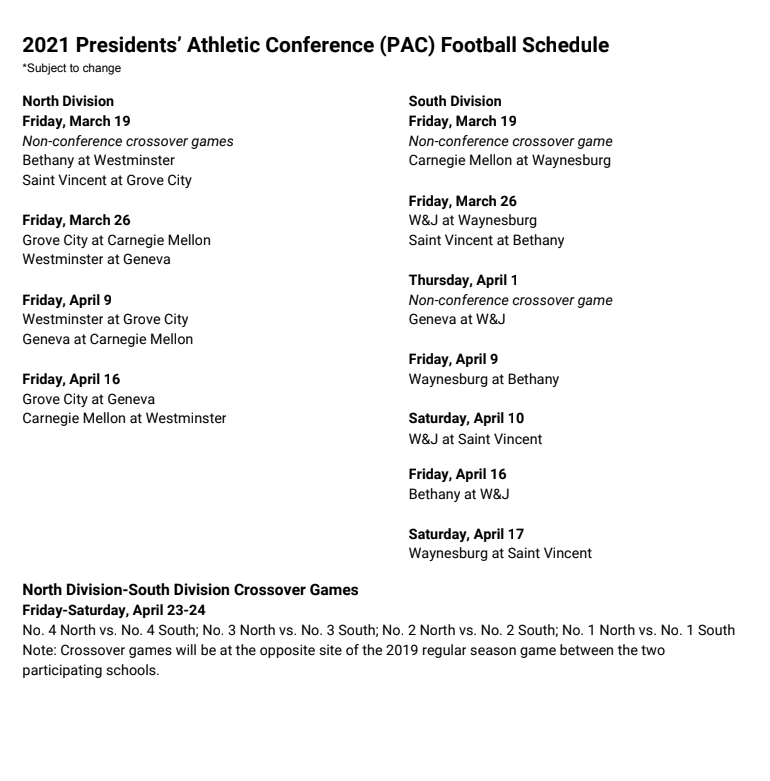 ---
---
The initial scheduling format, released September 17, 2020, called for two five-team divisions (North and South) to play four in-division games, followed by a season-ending North Division-South Division crossover game.
With Case Western Reserve and Thiel originally scheduled to compete as members of the North Division, the league moved Carnegie Mellon University, initially expected to compete as a South Division member, to the North Division.
The North Division will now be made up of Carnegie Mellon, Geneva College, Grove City College and Westminster College. Bethany College, Saint Vincent College, Washington & Jefferson College and Waynesburg University will make up the South Division.
The restructured schedule will begin with crossover games between North and South Division members on Friday, March 19. Those March 19 games will not be counted in the divisional standings. All eight teams will have two home games and two road games scheduled prior to the Friday, April 23 North-South crossover games.
The PAC's Scheduling Working Group recommended the new format to the league's directors of athletics, which was discussed and approved on March 2.
The April 23 crossover games will be played at the opposite site of the 2019 matchup between schools.
The PAC Presidents' Council has decided that, throughout the Spring 2021 semester, spectator policies for outdoor sporting events will be determined and enforced by each individual member institution. The council also agreed that schools will not be permitting spectators from visiting teams.