OT game-winner by Mr. Nick Iregui! (he guaranteed a goal 10 minutes in...) #titanpride pic.twitter.com/ssWf9S3bmt

— Westminster Titans (PA) Athletics (@WC_Titans) April 8, 2021
NEW WILMINGTON, Pa. – The Westminster College men's soccer team won, 2-1, in overtime against Presidents' Athletic Conference (PAC) foe Waynesburg University at home on Wednesday.
The game was highlighted by senior Nick Iregui's (Gig Harbor, WA / Charles Wright Academy) goal just over four minutes into overtime to seal the game for the Titans. Both teams remained scoreless midway through the first half, before the Titans were granted a corner kick around the 32-minute mark. Iregui took the corner and Waynesburg (1-3-1, 1-3-1 PAC) attempted to clear. However, Titan first-year Antonio Ulizzi (Coraopolis, PA / Montour) awaited the clear attempt and promptly buried a shot from almost 30 yards out to give Westminster (2-3, 2-3 PAC) a 1-0 lead, a lead it took into halftime.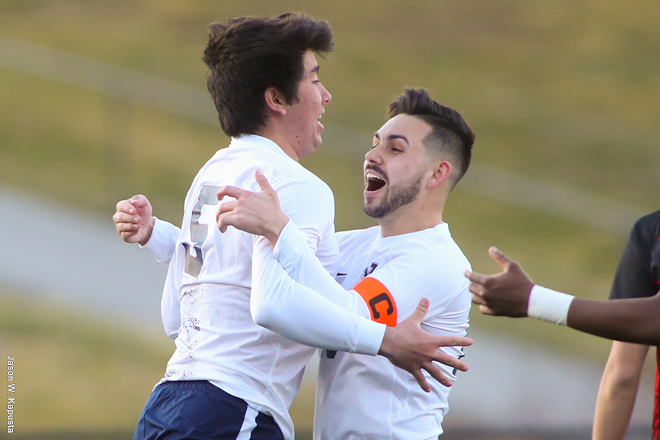 In the second half, the Yellow Jackets knotted the game up at one apiece off the foot of Logan Gonzalez in the 55th minute. Westminster got a good opportunity to win the game with a corner in the 87th minute, but Waynesburg held on to send the game to extra time. In overtime, Iregui scored the decisive goal when first-year Kai Haseyama (Encinitas, CA / San Dieguito Academy) found him streaking towards the net for the game-winner.
Westminster outshot the Yellow Jackets (17-8) and bested them in shots on goal (11-3). Westminster held a slim edge in corner kicks (6-5). Sophomore goalkeeper Jad Jadallah (Canfield, OH / Canfield) earned the win after earning a pair of saves in a complete-game effort.
Westminster will return to the pitch on Friday, April 9 when it takes on Chatham University in a PAC matchup at home at the UPMC Sports Complex. Kickoff is scheduled for 8:30 p.m.