NEW WILMINGTON, Pa. – The Westminster College volleyball team defeated the Geneva College Golden Tornadoes at home by a score of 3-1 in the Presidents' Athletic Conference (PAC) Volleyball Championship match on Saturday. Titan senior Reilly DeGeorge (Ashtabula, OH / Saint John) was named the PAC Championship Tournament's Most Outstanding Player. DeGeorge, sophomore Becky Adelman (Randolph, OH / Waterloo), and senior Josie Toporcer (Warren, OH / Lordstown) represented Westminster on the PAC All-Tournament Team. No. 1 Westminster (26-6) defeated No. 2 Geneva (22-9) by the scores of 25-18, 18-25, 25-19, and 25-20. Westminster, led by 27th-year Head Coach Tammy Swearingen, has now won four PAC Championships (2002, 2007, and 2008).
DeGeorge tied a team-high 10 kills with Adelman. DeGeorge also registered 17 digs. First-year Kaylee Sciubba (Tarentum, PA / Deer Lakes) followed with eight kills (tying a match-high) and earned a .467 hitting percentage. Sophomore Maya Steward (Los Angeles, CA / William Howard Taft) and senior Haley Farmerie (Manor, PA / Greensburg Central Catholic) had four kills each. Steward also notched 16 digs. Sophomore Samantha Kelly (Irwin, PA / Penn-Trafford) dished out a team-high 19 assists, while junior Haley Moore (Greensburg, PA / Greensburg Central Catholic) had 11 of her own. Kelly also had 18 digs, while Moore tallied 16. Toporcer registered a match-high 34 digs.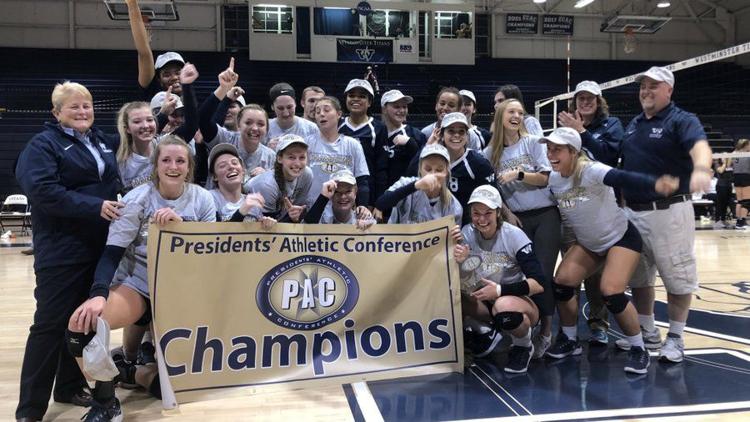 In set one, Westminster jumped out to a 6-1 lead and maintained control for the rest of the set, including its largest lead of 24-15. Geneva responded in the second set with a 4-0 lead and never lost the lead for the remainder of the set. Westminster regrouped and never fell behind in the third set and closed out the frame with four-straight points. The Titans stayed in the driver's seat in the fourth set with their largest lead coming at 19-13. Up 22-20, Westminster sealed its fourth PAC Title after three-straight points.
With the PAC Championship victory, the Titans receive the conference's automatic qualifying bid to the NCAA Division III Championship. The Division III Championship are scheduled to be announced Monday, Nov. 11 at 12:30 p.m. with an online selection show available at ncaa.com. Regional action is slated to get underway Thursday-Sunday, Nov. 14-17.