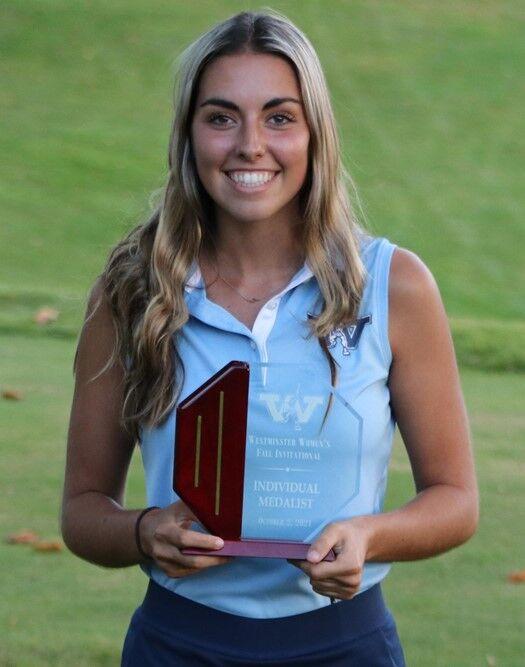 NEW CASTLE, Pa. - The Westminster women's golf team won the Westminster Invitational at Avalon Field in New Castle on Saturday with a 330 (+42), marking their fourth invitational win of the season. 
The Titans were led by medalist sophomore Sierra Richard (Beaver Falls, PA / Blackhawk), who earned her first non-tiebreaking medalist award of her career with a 79 (+7). Junior Erika Hoover (New Castle, PA / Wilmington) came in second-place with an 82, followed by sophomore Morgan Byers (Venetia, PA / Peters Township) who tied for third with an 84. Junior Kasey Clifford (Ocean City, NJ / Ocean City) carded an 85, good for a fifth-place finish. Junior Baylee Horvath (Murrysville, PA / Franklin Regional) came in ninth by shooting a 92. 
Titan golfers that were competing as individuals were junior Olivia Ledbetter (Tarrs, PA / Southmoreland) who shot an 88, good for sixth-place. Senior Jocelyn Behr (Murrysville, PA / Franklin Regional) tied for seventh with a 90. Junior Brynn Shetterly (Seville, OH / Cloverleaf) carded a 99, followed by senior Alexa Hutchinson (Geneva, OH / Geneva) who finished with a 110. Rounding out the Titan scorers were first-year Krysta Germanoski (Meadville, PA / Meadville Area) with a 111, junior Kara Hutchinson (Geneva, OH / Geneva) with a 120, sophomore Theresa Schneider (Chardon, OH / Chardon) with a 131. 
The Titans will next compete in the two-day Presidents' Athletic Conference Fall Championships, starting Wednesday, Oct. 13. Westminster will be striving for its fourth-straight PAC title.