NEW WILMINGTON,Pa.-- 11 points, 8 rebounds, a steal, and a block in 12 minutes of play. That was the stat-line for now, sophomore Caitlyn Condoleon (Warren, OH / Warren JFK) in her debut as a Westminster Titan last season. An improbable start to a soon to be great career for the first-year.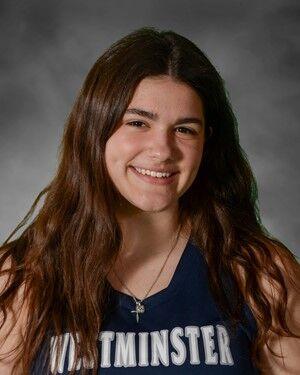 Condoleon was a standout player at her alma mater, Warren John F. Kennedy High School in Ohio. She registered 1,885 career points at her high school, a school record. So, the Titans were extremely grateful to be able to recruit a player with this type of ability to put the ball in the basket.
Unfortunately, during the spring of Condoleon's senior year, she would find out that while playing basketball over time she had been wearing down her meniscus and it was torn, which would leave her playing days in question. Fortunately, she was able to play on her injury during her senior year but had to get surgery while in quarantine.
"The recovery process was long and draining," said Condoleon. "I knew I didn't want to have to go through anything like that again." After six months of recovery, Condoleon then made her decision to commit to Westminster and become a Titan for the next four years.
In her first game as stated above she had 11 points and 8 rebounds, along with a steal and a block in just 12 minutes! Almost a double-double while only playing about a fourth of the game. However, just when you thought things were headed in the right direction, it took a terrible turn. 
With about three minutes left in the third quarter, Condoleon cut hard to the basket and went up for a layup along the left side. As soon as she came down, she stayed down. Everyone knew something wasn't right. Condoleon said to us, "I just heard a pop. I knew that feeling before. I just knew it." 
Yet again, Condoleon would suffer another knee injury. This time, it was her other knee. A torn ACL, lateral, and medial meniscus. A horrific injury and a huge blow to the Titans season. 
Head Coach of the Titans, Rosanne Scott talked about her reaction to Condoleon's injury. "It was heartbreaking to see her go down. Especially in her first game on the team."
So, what would be next steps for her after the terrible injury?
Well, another six to eight draining and tiring months of recovery.
After about 5 months of recovery, Condoleon was looking sharp with no setbacks and no complications. Yet again, it wouldn't be the case for long. While putting weight on her leg again she could feel a click in her knee and went to the doctors to get it checked out. She would receive news that there was a lot of scar tissue in her knee and she would need another surgery to remove it. This prolonged her recovery to a month longer. 
Caitlyn Condoleon touched on her recovery process and how it went. "Every day I kept pushing and pushing. My goal was to get back on the court before the season started. Throughout the recovery process, I could feel myself getting stronger and stronger. The little moments made me feel my best."
Coach Scott also talked about Condoleon's resilience during the recovery process. "With any recovery process you have your ups and downs. This time the mental aspect of coming back after another knee surgery is tough. She has worked through that part of her recovery and is getting more and more comfortable out on the floor every day." 
Likewise, junior point guard Camden Hergenrother (Salem, OH / Cardinal Mooney) discussed if she thought Condoleon would even be able to make yet another comeback and play again after her second knee injury in the last two years. "One-hundred percent, her love for the game is unmatched. Basketball brings her so much joy and I knew she had the drive to get back on the court. I never doubted her or her ability to get back" said Hergenrother. "She is so strong, and many people would've given up, but she never did, and I think that says a lot about her."
Additionally, teammate and junior forward Lindsay Bell (Youngstown, OH / Ursuline) commented on what she expects from Condoleon this season. "I expect her to go out and do what she's always done. She's had to push herself a lot harder than many people and it's going to show out there on the court, said Bell. "Drive, determination, motivation, and inspiration. She entails all four of these qualities and it's incredible to watch."
The Titans are set to make their season debut tonight, November 16th, hosting the Fighting Scots of Wooster College at 7PM. The goal for this season is just like any other. "As always, win the PAC" said Condoleon.
With Caitlyn Condoleon back on the court for the Titans, it looks like she could spark something for the team and help Westminster to a great season. There's no doubt she's ready to go and is happy to be back and playing the game she loves.