NEW WILMINGTON, Pa. — There have been at least 19 mass shootings in the United States as of September 2019.
Yet there was one in particular that stood out to Dr. David Swerdlow, a professor of English at Westminster College in Pennsylvania.
He wrote a poem in response to the mass shooting in El Paso, Texas that killed 22 people and injured 24 others.
This poem was later published in the Pittsburgh Post-Gazette.
Swerdlow explained why the El Paso shooting hit home for him.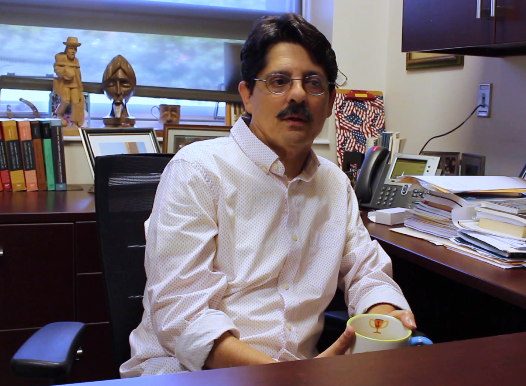 "You know, the El Paso mass shooting is the latest, or was the latest, not it's already not the latest, shooting in the history or an epidemic of violence in this country. The El Paso shooting hit home like the shooting at the Tree of Life synagogue hit home. These were places that targeted people from a religion, in the terms of the tree of life and from an ethnicity in the terms of the El Paso shooting. People who I love. For their identity. Tree of life, Jewish people in Pittsburgh…I'm Jewish. I'm not theologically driven, but culturally, I'm a Jew. And then, in El Paso, people were shot because of their first language. Just imagine being targeted not for what you've done or what you think. Just for who you are. By accident, almost. This has been going on and is intensifying. You know, I worry about my wife who is Latina. I worry about my in-laws who have thick accents."
Swerdlow's poem is all about him and his wife, Milagros, reacting to the shooting at El Paso.
There is a stark contrast between the couple's seemingly peaceful life at home and the dark subject matter looming over the two.
This home invasion is a further reason why Swerdlow was inspired to write about El Paso.
"The poem was sort of natural. I'm not generally a political poet, I don't sit down to be a political poet, but when politics becomes part of your everyday existence, when it's part of your breakfast routine. You know, when your wife says this country may no longer be the place where good is possible. That makes good possible, when your whole notion of what your home is being threatened if not turned over, then what do you do?"
Swerdlow says he is fortunate to have the ability to work out the 'mystery of that circumstance' through poetry.
He often tells his students that poetry begins where language fails.
And that poetry helps us put the unsayable into words that can be understood and felt.
"We've all had that experience where we just can't find the words for something. We just don't have the vocabulary. We don't have the arrangement of language that will suffice. And that's where the poet, the poetry come in."
Swerdlow explains the impact he wanted his poem to have on others when he sat down to write it.
"You know, when you write a poem, or maybe even when you say a prayer, it's not a public gesture. It's a private moment. But as a poet, you want your poems to go out into the world and to live. And to disturb people, to help people through disturbing them sometimes, to create a form of solidarity."
How does Swerdlow feel about his poem now that it's out in the world?
"Most of the good work that I've ever done was inspired by my wife. That's where this poem is rooted. And that, that's love. And I think that the poem has been successful because it embodies love. Even in the face of violence. Even in the face of imperfection. And I feel good about that."